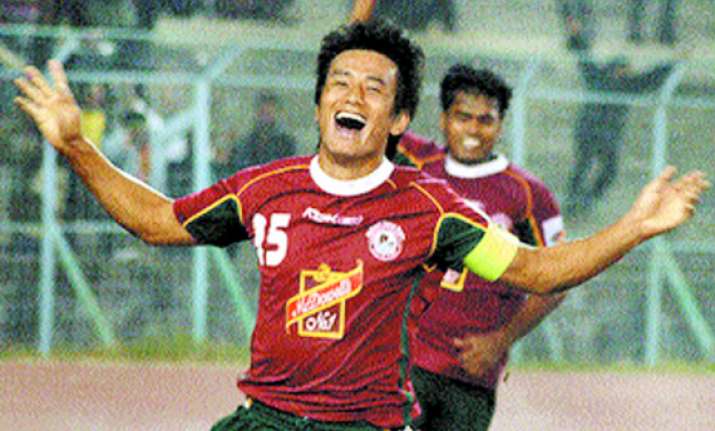 Kolkata, Dec 22: Mohun Bagan were held to a goalless draw by defending champions Salgaocar SC in a crucial round 11 I-League match at the Yuba Bharati Krirangan here today.

Bagan had the better ball possession and sparkled in patches but the side playing without five players, including AIFF Player of the year Sunil Chhetri, meant that a decisive goal eluded the home outfit.

Courtesy the result, Bagan moved to 21 points from 11 matches while Salgaocar moved to 13 points from same number of matches.

Salgaocar goalkeeper Karanjeet Singh, thwarting two fine attempts, stood tall in the path of Bagan's victory.

The Goan champions, who have slumped to poor form after their Federation Cup triumph this season, once again failed to hit the purple patch despite playing a full strength squad.

The Karim Bencherifa-coached side had two sure shot chances in each half but the first was missed by Edeh Chidi while in the second-half, a brilliant work by Bagan goalkeeper Sangram Mukherjee thwarted a fine attack by substitute Anthony Barbosa.

The hosts had their first opportunity in the sixth minute but Odafa could not capitalise properly on an Ashim Biswas centre.

Bagan's best chance in the first-half came in the 29th minute when Odafa used a Manish Mathani forward pass but the opposition goalkeeper Karnajeet did a fine save to frustrate the home side.

Launching a counter attack, Salgaocar looked to go ahead in the 31st minute but an unmarked Edeh Chidi after getting a pass from the right wing made a mess of the opportunity as his header was wide of the target.

After the changeover, Bagan had a fine chance in the 77th minute when Ashim Biswas' powerful header from a Gouranga Dutta left-footed cross was thwarted by Karanjeet again.

Salgaocar too had a last chance four minutes before the regulation time when Barbosa, who replaced Francis Fernandes, had a fine run but failed to get past a diving Mukherjee.

Salgaocar's Chidi was adjudged man of the match.

Bagan brought in Jose Barreto in place of Sheikh Jewel Raja in the 70th minute but their veteran forward was off-colour.

The green-and-maroon brigade missed Chhetri, Hudson Lima and Daniel Zeleny because of injuries while Kingshuk Debnath and NP Pradeep had to sit out for suspensions.

Nursing a Grade 2 ligament tear on his left ankle, Chhetri watched the proceedings from media box.