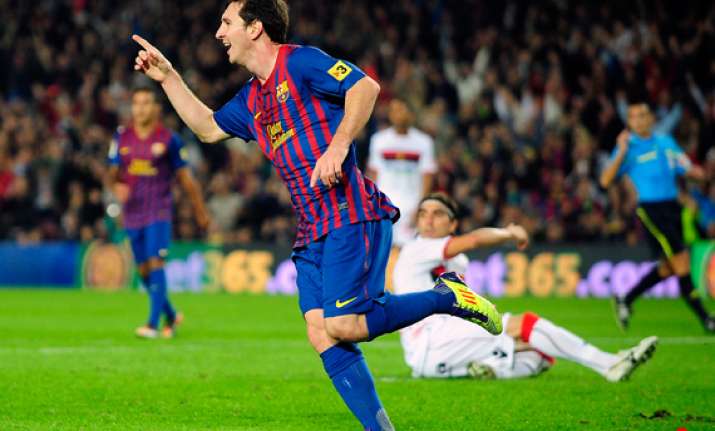 Madrid, Oct 30: Lionel Messi ended a brief goalless run with his 13th career hat trick as Barcelona beat Mallorca 5-0 on Saturday, while Real Madrid provisionally moved top of the table after a 1-0 win over Real Sociedad.

Messi's goal drought of three matches had raised eyebrows in Spain, but the Argentina forward left no doubts over his form by taking his season tally to 19 goals inside half an hour. Isaac Cuenca and Daniel Alves added second-half goals at the Camp Nou.

"It seems crazy to me to say that I'm in a crisis after just three games without a goal," Messi said. "There's no pressure as long as the team keeps winning."

Gonzalo Higuain's ninth-minute goal proved enough at the Anoeta Stadium for Madrid to end October with a perfect record and lead with 25 points from 10 games, one better than defending champion Barcelona and two more than Levante, which can return to the top Sunday with a victory at Osasuna.

Villarreal prepared for its must-win Champions League match against Manchester City on Wednesday with a 2-0 victory against Rayo Vallecano to end an eight-game winless run, while Valencia stayed in touch of the leaders with a 3-1 win over Getafe.

Messi left himself one goal shy of 200 by converting a 13th-minute penalty after Emilio Nsue handled from Barcelona fullback Adriano inside the area.

Cuenca's cross took came off Adriano to fall rigth to Messi at the far post, the Argentine only having to open his right foot to redirect the ball into goal for 2-0 in the 21st.

Alves then sent a perfect long ball into the area for Messi to guide home with his left foot for his second hat trick of the season, which put him second on Barcelona's all-time league top scorers' list with 132.

Cuenca blasted a shot over goalkeeper Dudu Aouate into the roof of goal in the 50th for his first goal in his second senior start.

After Messi headed an Alves cross just wide and touched the crossbar from a free kick, Alves got in on the scoring act in stoppage time as the Brazil fullback unleashed a long-range drive that dipped over Aouate into goal under the right corner of the crossbar.

"We rediscovered our scoring touch," Barcelona coach Pep Guardiola said after the club had been restricted to three goals over its past three games.

Barcelona remained unbeaten in 16 games as coach Pep Guardiola relied on youth team player Cuenca and teenage forward Gerard Deulofeu later while leaving Xavi Hernandez out of the team and midfielders Andres Iniesta and Cesc Fabregas on the bench as unused substitutes. Gerard Pique returned from injury to play while Carles Puyol was back after being rested.

Fabio Coentrao played Higuain clear into the area for the Argentina striker to use a short chip over goalkeeper Claudio Bravo for his 10th league goal.

Madrid had outscored opponents 28-3 on the run coming into the game, which also included two European victories. But it saw its chances limited by Sociedad's defense, which was particularly effective in limiting Cristiano Ronaldo.

Sociedad went on the attack in the second half with Madrid keeper Iker Casillas making tough stops on Carlos Vela and substitute Antoine Griezmann to preserve the visitors' victory.

"This victory shows we're a well-balanced team, one that knows how to withstand those tougher moments also," said striker Gonzalo Higuain, who was embraced by Jose Mourinho after the final whistle as the Madrid coach sprinted onto the field to celebrate.

Meanwhile, Villarreal picked up only its second victory in 13 games from a disjointed performance at the El Madrigal stadium, with Bruno heading home in the 20th minute to open the scoring.

Villarreal midfielder Marcos Senna had a penalty saved near the close of the half, but the hosts came out after the break with more verve and Borja Valero skirted into the area to score in the 67th to secure points that moved the Yellow Submarine out of the drop zone.

"The team needed and deserved a victory like this," under fire coach Juan Carlos Garrido said.

Valencia also prepared for a midweek Champions League match with a win that kept it fourth with 21 points.

Sofiane Feghouli scored a pair of goals, including the young Frenchman's first for Valencia in the 12th to open the scoring with a stinging volley that came off the ground to bounce over goalkeeper Miguel Angel Moya into goal.

Ruben Castro replied for Getafe in the 23rd before Feghouli struck again two minutes later, being perfectly placed to shoot home following a goalmouth scramble.

Aritz Aduritz added the third in the 76th ahead of Tuesday's match against Bayer Leverkusen.