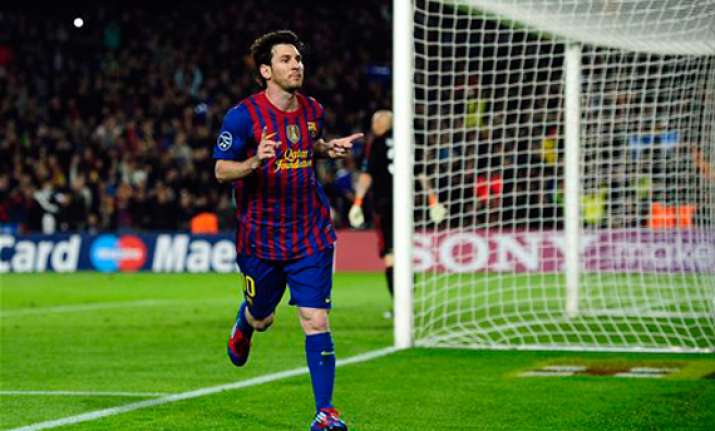 Barcelona, Apr 04: Lionel Messi broke yet another record in an already remarkable season as Barcelona finally broke down AC Milan's stubborn defense to move one step closer to successsfully defending its Champions League title.
The three-time world player of the year scored two first-half penalties Tuesday to lead the Spanish club to a 3-1 victory over Milan and a place in the semifinals of the tournament for the fifth straight season. In the process, he became the first player to score 14 goals in one Champions League campaign, breaking Ruud van Nistelrooy's record from 2002-03.
After leaving the San Siro feeling aggrieved at not having been awarded at least one penalty in a 0-0 draw, Barcelona took full advantage of getting two spot kicks this time and then held off the visitors attempt at a fightback.
"When you have Milan in front of you, it's never over. We had to work a lot," Barcelona midfielder Andres Iniesta said. "We're very happy to be in the semifinals again."
Messi opened the scoring in the 11th minute at the Camp Nou before Antonio Nocerino countered with a 32nd-minute strike that gave the Italian champions a valuable away goal that provided hope of advancing.
But Barcelona's attack did not relent and the defending champions were awarded a second penalty when Alessandro Nesta needlessly yanked Sergio Busquets down inside the area during a corner, and Messi calmly slotted in his 58th goal of the season in all competitions.
Goalkeeper Christian Abbiati kept Milan in touch but could not stop Andres Iniesta from completing the victory from close range in the 53rd, as Barcelona became the first club in the modern-era edition of the European club championship to reach five straight semifinals. Only Real Madrid had accomplished the feat en route to winning five straight trophies between 1956-60 in the competition's earlier format.
Milan, meanwhile, hasn't reached the last four since winning its last title in 2007 and its players quickly surrounded Dutch referee Bjorn Kuipers to protest after the final whistle.
"Sometimes the referee made too many concessions," Milan coach Massimiliano Allegri said. "I don't know if it proved decisive. We made a mistake on the first penalty but he helped on the second. Playing Barca is never easy."
Barcelona coach Pep Guardiola believed his team's general effort made up for any controversy as the Catalans outshot the Rossoneri 21-3.
"You can talk all you want about referees but that makes it five straight semifinals, the fruits of our talent and a lot of work," said Guardiola, who is the third coach after Helenio Herrera and Vicente del Bosque to lead a team to four straight semifinals. "We deserved more than to just get through so I'm satisfied."
Zlatan Ibrahimovic set up the equalizer and had a penalty appeal turned down in the second half, but was mostly muted by defender Gerard Pique in his first return to the Camp Nou since leaving Barcelona in 2010.
"I'm just disgusted," the Sweden striker said. "They are the best team in the world but at 1-1 and, playing with intelligence, you can do something. In my opinion it wasn't fair."
Barcelona faces either Chelsea or Benfica next, with the English club going into Wednesday's return leg leading 1-0.
The match began with an electrifying pace as Barcelona pushed forward only for Abbiati to deny Messi when the Argentina forward was not uncharacteristically misfiring.
But Luca Antonini helped as he slid into Messi from behind during a scramble in the area, and the 24-year-old Messi became the youngest player to reach 50 goals in the competition when he slotted his spot kick just out of reach of a diving Abbiati.
While Barcelona maintained control with its usual passing game, the Rossoneri defense held firm to avoid further goals before Robinho's individual effort created the equalizer. The Brazil striker drew a number of players before spotting Ibrahimovic, who put Nocerino through on goal to slot a shot past Victor Valdes from the right side of the area.
Knowing a scoring draw would put Milan through, Barcelona kept pressing for another goal and Abbiati had to stretch to push away a shot from Xavi Hernandez, a surprise starter despite a calf injury.
Instead it was Milan's disciplined defense — which held Barcelona scoreless in a Champions League game for the first time in more than two years in the first leg — that finally cracked as Nesta gave away a cheap penalty when he tussled with Busquets during a corner.
Messi, who became the first player to score five goals in a Champions League game against Bayer Leverkusen in the previous round, sent Abbiati the wrong way from the spot to also match Mazzola Altafini's 49-year mark of 14 goals in a European Cup campaign.
Milan clung on after the restart but were unlucky when Messi's effort was deflected into the path of Iniesta, who picked his spot inside the far corner to put the quarterfinal out of reach.
Xavi's replacement Thiago Alcantara had Barcelona's best chance after that as he shot wide across the face of goal, while Daniel Alves cleared away Milan's most dangerous chance to get back into the game moments before in the 67th.