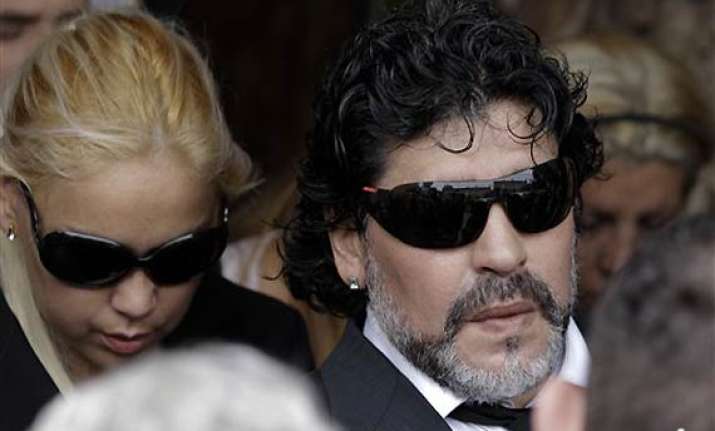 Buenos Aires (Argentina), Nov 21: Diego Maradona laid his mother to rest Monday in a private funeral ceremony that was attended only by close friends and some well known Argentine athletes.

Dalma Salvadora Franco de Maradona, who had been in declining health in recent months, died Saturday of heart failure in a Buenos Aires clinic. She was 82.

Maradona, a former Argentine captain and national team coach, was seen briefly leaving a funeral chapel in the Buenos Aires neighborhood of Caballito dressed in a suit and wearing dark sunglasses as he stepped into a vehicle forming part of the funeral cortege.

Maradona was very close to his mother, who was widely known as "Dona Tota." Maradona has a tattoo of a rose on his back with the words "Tota, te amo" or "Tota, I love you."

Among well-known athletes attending the wake were former Boca Juniors striker Martin Palermo, River Plate coach Matias Almeyda and tennis star Juan Martin del Potro.

Fans at Sunday's match between Boca Juniors -- Maradona's old club -- and Racing Club held a moment of silence before the kickoff at La Bombonera Stadium.

Maradona, who coaches United Emirates club Al Wasl, arrived in Buenos Aires on Sunday from the Middle East, hours after his mother's death.