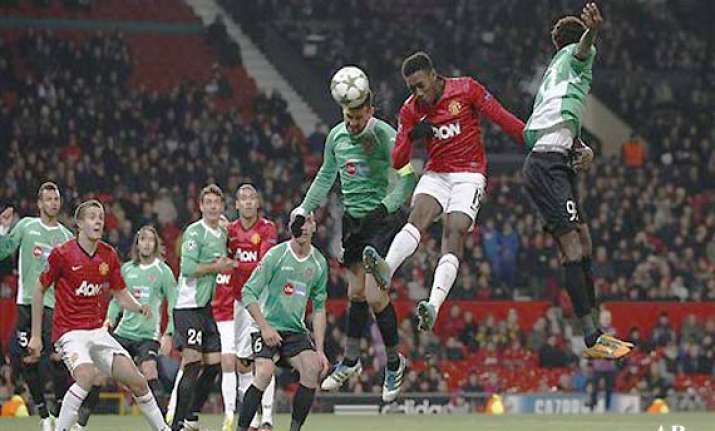 Manchester, Dec 6: CFR Cluj failed to reap any rewards for beating a below-strength Manchester United 1-0 at Old Trafford on Wednesday, with the Romanian minnow knocked out of the Champions League by Galatasaray's victory in Braga.
Luis Alberto's spectacular 56th-minute goal earned Cluj its greatest ever victory but its night was soured by news that Galatasaray came from behind to win 2-1 in Portugal.
Both teams finished Group H level on 10 points, two behind United, but the Turkish side went through as runners-up courtesy of the head-to-head record.
Cluj will still head into the Europa League as third-place finisher in good heart, with Luis Alberto's goal one of the best in the Champions League so far this season.
"It was a wonder goal that beat us," United manager Alex Ferguson said.
United played a virtual reserve team with first place guaranteed, and paid the price despite dominating most of the match.
It was a disappointing way for Ferguson to mark his 200th match in charge of United in the European Cup, but the result will not overly worry the Scottish manager ahead of Sunday's Manchester derby in the Premier League.
"We have won the group but we know the likes of Shakhtar (Donetsk), Milan, Porto, all the big names, are in there (as second-place finishers)," Ferguson said.  
"We qualified comfortably but the real tournament starts at the end of February."
Ferguson, who sat in the directors' box rather than the dugout for the first half, made 10 changes to his starting team -- with Wayne Rooney the only survivor from the 4-3 win at Reading on Saturday -- and will wonder how it was 0-0 at the break.
Chris Smalling and Danny Welbeck squandered gilt-edged headed chances from close range and Rooney, with a deft chip from the angle, was also denied by the overworked Cluj goalkeeper Mario Felgueiras.
Cluj wasn't without its chances, either, as some comedy defending by Smalling and then Scott Wootton gifted two chances to Modou Sougou, who wasted both.
And it was another United mistake that eventually allowed Cluj to open the scoring.
Paul Scholes -- on as a substitute for the injured Tom Cleverley (calf) late in the first half -- gave the ball away sloppily on halfway and Luis Alberto capitalized, running unchecked toward the edge of the area before smashing a high, swerving shot in off the post.
It was the fifth time in six group matches that United had gone behind in this European campaign -- and the 15th time in all competitions this season -- and it couldn't recover.
Cluj's delight turned to dismay, though, when news of Galatasaray's comeback in Braga got through to fans.