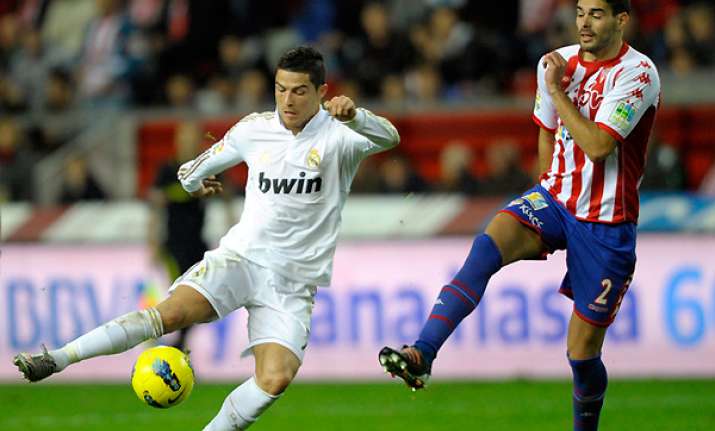 Barcelona, Spain, Dec 4: Real Madrid and Barcelona heightened the anticipation for their first "clasico" of the season when they cruised to convincing wins in the Spanish league on Saturday.

Madrid dealt Sporting Gijon a 3-0 home loss to remain three points ahead of second-place Barcelona, which has played an extra game after Cesc Fabregas scored a first-half brace to spark the defending champion's 5-0 rout of Levante.

The fierce rivals head into the contest at Santiago Bernabeu Stadium next Saturday in excellent form, with Madrid extending its winning streak to 14 games in all competitions and Barcelona improving its home scoring margin in league play to 39-0.

"I know people can't wait until next Saturday," said Fabregas, trying to downplay the occasion. "(But) the league doesn't just come down to key games like the one at the Bernabeu. It is very long and you have to take it one game at a time."

Angel Di Maria scored Madrid's 34th-minute opener and produced the throughball for Cristiano Ronaldo to put the game at El Molinon beyond doubt in the 64th. Marcelo capped the win in stoppage time.

Di Maria said his team was trying to remain focused ahead of the clasico that will likely mark the course of the competition with Madrid seeking to dethrone Barcelona for the first time in four seasons.

"The team is calm. We have a game (at Ajax) in the Champions League before we can start thinking about Barca," Di Maria said.

With Xabi Alonso suspended, Lassana Diarra started in Madrid's midfield alongside the equally defensive-minded Sami Khedira.

The visitors missed Alonso's incisive passes early as they dominated possession but failed to seriously threaten Sporting's area until Di Maria drew a save from Juan Colinas with a long blast in the 19th.

With its attack stalled outside the area, Madrid went ahead through a great individual effort by Di Maria when he recovered the ball, danced down the left flank and caught Colinas anticipating the cross with a deft stab to send the ball into the right side of the net.

"We scored when we had done very little to deserve it," Madrid coach Jose Mourinho said. "We hadn't done much before the 1-0, but during halftime we talked about it and in the second half we saw the difference."

Di Maria cued the decider when he played Ronaldo through the defense to round Colinas with an extra touch and slot home from the right side.

Sporting played with 10 men from the 80th after Sebastian Eguren received his second booking, and Marcelo ran through the hosts' thin defense to score from close range in the dying moments.

Later in the Catalan capital, Barcelona coach Pep Guardiola returned to a three-man defensive line, thereby allowing Xavi Hernandez, Andres Iniesta and Fabregas to overwhelm Levante in the midfield.

Levante was missing its two most dynamic players—midfielder Jose Barkero and forward Juanlu Gomez—and didn't look like the revelation of the season that had previously spent two rounds at the top of the table.

Barcelona's passing attack worked wonders from the start as the hosts had little trouble remaining unbeaten this season at Camp Nou.

Fabregas put Barcelona on its way four minutes in when he collected a pass from Lionel Messi that Iniesta sent through with a fine touch before shooting just inside the left post.

"It is important to score early because teams like (Levante) know how to close well in defense," Fabregas said.

The former Arsenal captain headed Xavi's free kick into the right side of the goal to make it 2-0 in the 33rd.

Barcelona continued to roll and B-team standout Isaac Cuenca put the game away in the 37th, firing low into the right corner after Iniesta again smartly redirected a pass from Messi to set up the unmarked winger.

Messi drove in a left-footed shot off a pass from Dani Alves 10 minutes after halftime to draw even with Ronaldo as the league's top scorers with 17 goals each, and Alexis Sanchez capped a break started deep in Barcelona's territory in the 61st for the Chile forward's third goal in two games.

"It is good to win by a big scoreline because it gives us confidence heading into such a big game (at Madrid)," Barcelona's Javier Mascherano said. "The sensations are positive. It will be a spectacular game and everyone is excited to play it."

Elsewhere, Christian Stuani's first-half goal gave Racing Santander a 1-0 win over Villarreal in its first game under interim coach Juanjo Gonzalez since Hector Cuper parted ways with the northern Spanish club.

Racing's second win of the season provisionally lifted it out of last place.

Valencia welcomed Espanyol in Saturday's late game.

On Sunday, it's: Atletico Madrid vs. Rayo Vallecano, Real Sociedad vs. Malaga, Osasuna vs. Real Betis, Mallorca vs. Athletic Bilbao, and Granada vs. Zaragoza.

Sevilla hosts Getafe on Monday to close round 14.