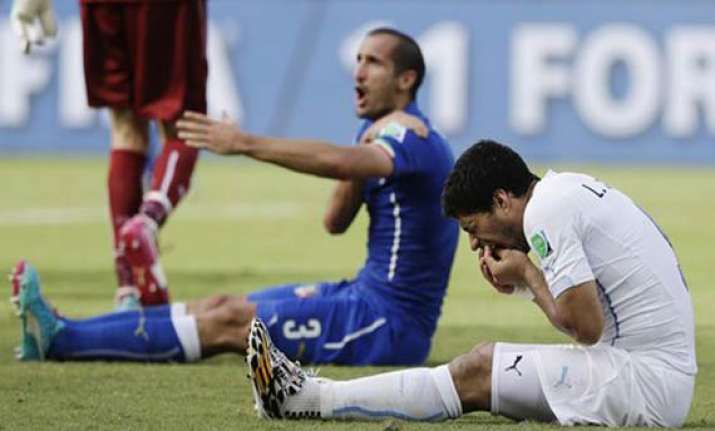 RIO DE JANEIRO: Luis Suarez was embroiled in another biting controversy on Tuesday when the Uruguay striker appeared to sink his teeth into Italy defender Giorgio Chiellini's shoulder in a crucial World Cup group game.
It is the latest in a long list of contentious moments in the career of the talented but hot-headed forward, who has twice before been punished for biting an opponent in a game and was also banned for racist abuse.   
Here are five controversies involving the 27-year-old Liverpool player:  
BITE NO. 1
Suarez was banned for seven matches in 2010 while playing for Dutch club Ajax after TV replays showed him biting PSV Eindhoven midfielder Otman Bakkal in a league match.   
The referee missed the incident and Suarez was not punished during the game but Bakkal pulled his shirt down afterward to show a red mark on his shoulder -- a similar place to where Suarez appeared to bite Italy's Chiellini at the World Cup on Tuesday.   
At the time, Suarez still had a suspended one-match ban hanging over him following a red card in that season's opening game. The incident earned him the nickname "Cannibal of Ajax" in the Netherlands.   
BITE NO. 2
Three years later in 2013, Suarez -- now playing for Liverpool -- was slapped with a 10-match ban in the English Premier League for biting the arm of Chelsea defender Branislav Ivanovic. It was one of the most severe punishments handed out by the league for an on-field offense and a disciplinary panel said a regular three-match suspension for violent conduct was "clearly insufficient."   
Again, the referee missed the incident as Suarez bit Ivanovic on the upper arm during the 2-2 draw. However, it was seen by millions of viewers on TV replays and British Prime Minister David Cameron waded into the controversy by saying the Uruguayan had set an "appalling" example for young fans.   
Suarez eventually released a statement saying "I acknowledge that my actions were not acceptable on the football pitch."