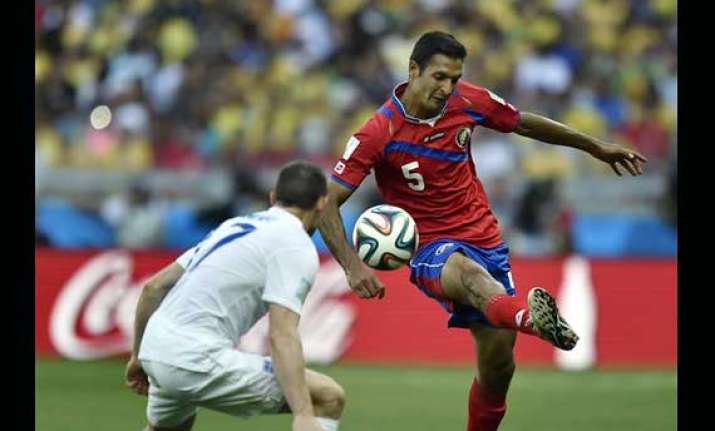 Santos, Brazil: Celso Borges is the link between the two Costa Rica teams that have sprung World Cup surprises.
His father, Alexandre Guimaraes, is a naturalized Brazilian who played as a striker in the Costa Rica team that reached the round of 16 in Italy in 1990.   
Twenty-four years later, the son is the midfield lungs of a team that has done even better at this World Cup.   
And Borges says it would be wrong to assume that Costa Rica is satisfied with being among the top eight teams in the World Cup.   
The "Ticos," he says, aspire to go even further this time as they prepare to face the Netherlands on Saturday in the quarterfinals.   
"The team is still hungry. We have not lost our ambition, our desire," said Borges, who plays for Stockholm team AIK in the Swedish league.   
At the end of the penalty shootout that Costa Rica won against Greece in Recife last Sunday, Borges dodged security guards to embrace his father in the stands of the Pernambuco stadium.   
The scene highlighted the sweet moments that the Costa Ricans are enjoying in Brazil, where they caused a sensation in the first round by topping a group with former world champions Uruguay, Italy and England.   
Knowing that it's the big surprise of the tournament, the team is pushing itself to lift its aim ever higher, Borges said.   
"We are at a point where we want to win against ourselves," he said. "We want to make history. We didn't come to Rio to visit, or to spend some time at the beach."   
Borges, who fills a role as a midfield playmaker but also helps out in defense, came to Brazil to run.   
According to FIFA's measurements of the distance covered by players, the midfielder is in ninth position with 46.3 kilometers run over 378 minutes.   
"It's part of my job," Borges said. "I don't have any statistics ... but what I have liked the most is that I have been involved in scoring chances and closing space in defense."