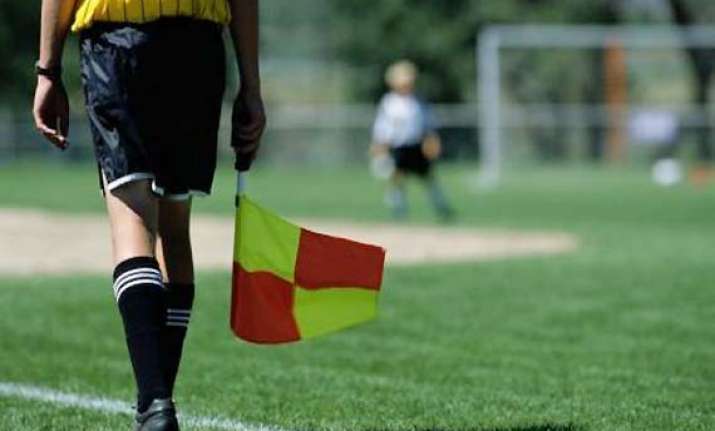 The Hague (Netherlands), Dec 4: A Dutch linesman officiating in his son's youth football match was beaten and kicked by several players after the game and died the next day.
Richard Nieuwenhuizen collapsed and was rushed to the hospital hours after players from Amsterdam club Nieuw Sloten punched and kicked him.  
Nieuwenhuizen's club, Buitenboys, said the 41-year-old linesman died Monday night but did not announce the exact cause of death.
"You can't believe this could happen. That kids of 15 or 16 are playing football, you come to watch and see something like that," Buitenboys club chairman Marcel Oost told national broadcaster NOS.
Three players, whose ages range from 15 to 16, were arrested earlier Monday for alleged involvement in the beating on Sunday in the town of Almere.
Dutch Sports Minister Edith Schippers told NOS even before the news of Nieuwenhuizen's death that "it is absolutely terrible that something like this can happen on a Dutch sports field."
Anton Binnenmars of the Royal Netherlands Football Association said he was shocked by such an act at a youth league match for children aged between 15 and 16 -- one of thousands that take place on pitches across this football-obsessed nation of 16 million every weekend.
"It is too crazy for words that somebody involved in a sporting hobby becomes a victim of this kind of aggression," he said in a statement.
Nieuwenhuizen had been officiating in a match in which his own son was playing, Oost said.
"He was glad to be a part of this club and proud of his son," Oost said.
Parents and other volunteers regularly referee and officiate at sports matches involving their children in the Netherlands, where sports such as football and hockey are incredibly popular and well-organized for young players.
"This not just a tragedy for Almere and our club, but for Dutch football in general," Oost said. "This can't happen on the football field."
Police spokeswoman Leonie Bosselaar said shortly before the linesman's death was announced that the players were still in custody and investigations were continuing. She added that police would not rule out arresting more suspects.
Nieuw Sloten said in a statement on its website it has banned the players involved and pulled their team out of the league.
The statement said such incidents "do not belong on a football field."
Both clubs canceled all training scheduled for Monday.
The Dutch FA said all 42 of Nieuw Sloten's matches for next weekend had been cancelled at the club's request.
The death came almost exactly a year after a Dutch amateur footballer fatally kicked a 77-year-old supporter following a match.
Amsterdam District Court last week sentenced the player, identified only as Silvester M. in line with Dutch privacy law, to three years imprisonment for kicking the supporter so hard in the chest that his spleen ruptured. He died of his injuries a month later.
The attack in Almere was even discussed at a news conference in Spain on the eve of Ajax's Champions League match against Real Madrid.
"You can't imagine it happening," said Ajax coach Frank de Boer. "That boys of 15, 16 years short circuit like that. You wonder about the parenting.
"Something has to be done, because this is too ridiculous for words."