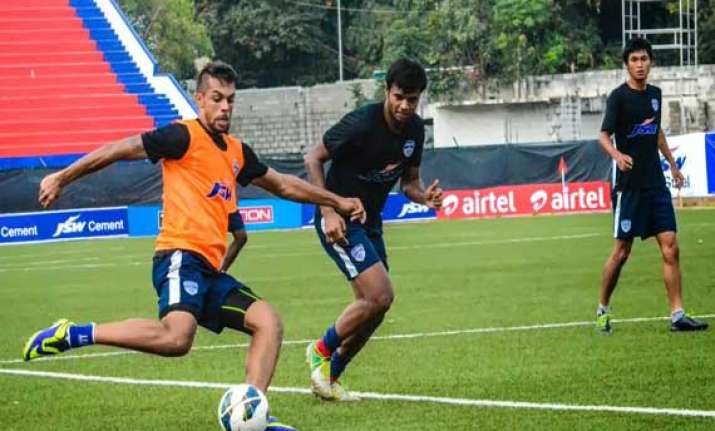 Margao: Bengaluru FC etched their names in the annals of Indian football history, beating Dempo 2-4 at the Nehru Stadium here Monday to be crowned the kings of the I-League in their debut season.
Call it default or design but Bengaluru FC's first salvo was fired by the man who started it all against Mohun Bagan in September - Sean Rooney.
The Australian striker was at the end of a perfectly-slid in Robin Singh cross as Bengaluru shot to a lead in the second minute.
Dempo began the second half with a plan familiar to them - plenty of possession. But Bengaluru had other plans and this time it was Robin's turn to flash the trademark salute when he scores.
Picked out by Sunil Chhetri, Robin's strike took a bit off 'keeper Laxmikant Kattimani before rolling in much to the away fans' delight. Bengaluru were tight at the back, refusing to give Dempo any space to threaten while the midfield were quick to latch on to any stray ball and press for a third.
The third did come in the 79th minute when after exchanging passes with Chhetri, John Menyongar scored from a tight angle to make it 0-3.
But just as Bengaluru were preparing to celebrate, Dempo seemed to gatecrash the party with two goals in seven minutes.
First it was Beto who slotted a freekick home and then substitute Romeo Fernandes smashed home Dempo's second in the 89th minute.
Bengaluru did have a nervy last few minutes but killed Dempo in their pursuit for an equaliser with a goal themselves. This time, it was Chhetri on the list with a calm finish that takes him to joint top scorer of the League this far with 14 goals.
Chhetri's strike was the last kick of the game as the players celebrated wildly in front of the 500 Bengaluru FC fans that were backing the team throughout.
"I just want to congratulate and thank everybody connected to the club who has made this possible. We have shown what can be achieved with a combined team effort. I just hope everybody realizes how big an achievement this has been for a brand new club and I would also like to say a special thanks to the fans who made Bangalore a special place to play for all of us," said coach Ashley Westwood after the win.