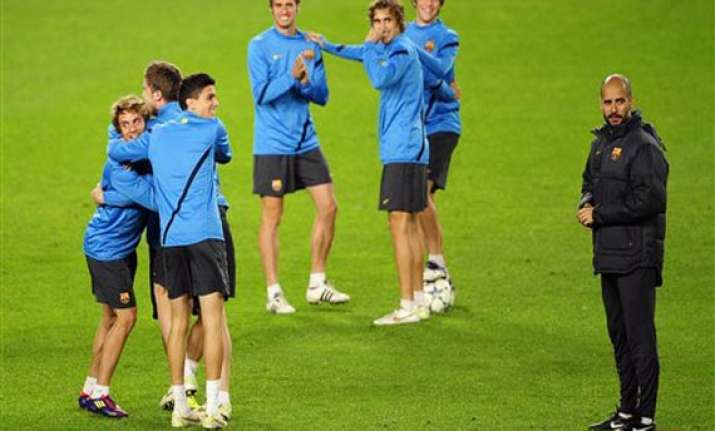 Barcelona, Spain, Dec 6 : With first place secure, Barcelona will use its final group match against BATE Borisov on Tuesday as a chance to give its latest crop of young talent a taste of the Champions League.
Barcelona coach Pep Guardiola has only called up six first-team players for the match, opting to rest Lionel Messi, Xavi Hernandez and Andres Iniesta, among others, ahead of next weekend's game at Real Madrid in the Spanish league.
"The team will play well against BATE because many players dream their whole lives about playing in the Champions League, and we have to respect our rival," said Javier Mascherano, who will also be watching from the stands at Camp Nou.
In the other Group H match, Viktoria Plzen needs a draw or better against AC Milan to finish third and earn a spot in the Europa League.
The defending champions will be able to count on defender Gerard Pique and forward Pedro Rodriguez, who has lost his spot in Barcelona's starting lineup this season and should be eager to rediscover his form against the Belarusian champions.
While Pedro has watched new signings Cesc Fabregas and Alexis Sanchez reduce him to a bench player, Guardiola said he still believes the Spain international is an important part of his team's success.
"(Pedro) is too good to doubt," Guardiola said after his team's 5-0 win over Levante on Saturday. "If I am the coach I am it is thanks to players like Pedro."
Midfielder Thiago Alcantara will likely orchestrate Barcelona's passing attack, which could also feature 17-year-old forward Gerard Deulofeu and Isaac Cuenca, who capped his strong performance this past weekend with a goal.
The 20-year-old Cuenca spent last season in Spain's third division on loan, but he has fit in seamlessly in limited action with Barcelona's first team this campaign, scoring two goals in league play and providing Guardiola with another weapon on the wing.
"Physically, he may not be a hit with the girls," Guardiola joked. "But when he plays in the right place, he is awesome. He does his job to perfection."
Barcelona rolled to a 5-0 win in its first meeting with BATE in Minsk, and the visitors must find a way to hand Barcelona its first loss in 13 straight Champions League home games while hoping that Viktoria Plzen loses to overtake the Czechs and stay alive in European competition.
BATE can take some heart that Milan already has second place in the group locked up.
Milan coach Massimiliano Allegri called the game in Plzen a "solid training session," while adding "but we're Milan and we've got to try and win."
Allegri is planning to bring three youth squad members to the Czech Republic, although he also said that Brazil forward Alexandre Pato, who is still regaining his form following a leg muscle injury, will play.
"Pato is fine," Allegri said. "He needs to play and he'll do so in Prague."In defense, Philippe Mexes will likely start at center back, with either Alessandro Nesta or Thiago Silva getting some rest.
Viktoria Plzen is third in the Czech league after a 4-1 win on Friday."Anything can happen but I don't think that Borisov can win (at Barcelona)," Viktoria Plzen coach Pavel Vrba said. "(And) I still think that we can draw with Milan."