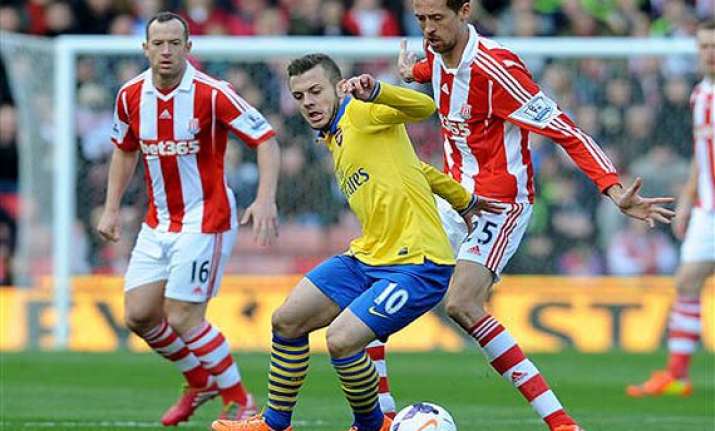 LONDON
: With Jack Wilshere out for six weeks, few would bet on Arsenal to win its first Premier League title since 2004.
The loss of the England midfielder, who picked up a foot injury during a World Cup warm-up match on Wednesday, is a massive blow for Arsene Wenger's team.
Having already lost forward Theo Walcott because of a serious knee injury in January, Arsenal will be playing at least eight matches without Wilshere, who has been a key element of his team's resurgence this season.
"It is a blow for him and for us," Wenger said Friday. "You can only be very down, especially in the first days."
Arsenal, which is chasing a first piece of silverware since its 2005 FA Cup success, is still competing in three different competitions the Premier League, the FA Cup and the Champions League. But the Gunners have slowed in recent weeks, slipping to third place in the Premier League standings.
The 22-year-old Wilshere was substituted in the 59th minute of the 1-0 win over Denmark at Wembley following a heavy tackle by Daniel Agger. After early scans by the FA, it was thought Wilshere's injury was not serious. It turned out to be far worse.
Although the minuscule cracking of a bone in his left foot is unlikely to stop Wilshere from playing for England at the World Cup in Brazil, he will miss crucial games with his club.   
Wilshere will sit out the FA Cup quarterfinal match against Everton on Saturday, the second leg of the last 16 of the Champions League at Bayern Munich, a league derby against Tottenham, a visit to leader Chelsea and league matches against Swansea, Manchester City, Everton and West Ham. 
Wilshere could make his return on April 19 at Hull, less than one month before England coach Roy Hodgson picks his squad for Brazil, and Wenger expects him to play at the World Cup.   
"A fracture is a fracture, it is not muscular or a ligament. Once it is healed, you do not have to have any restriction in your preparation," the French coach said.   
Wenger added that Wilshere was given some time off from Arsenal to help him take his mind off his injury.
"He is in a boot and has gone away for a few days to get away from things and think about something else," Wenger said. "There are 11 weeks to go, he will be out for six before he can absorb normal training. His injury will not stop him working on fitness so two weeks after he should be competitive. That means the maximum for him to be competitive in a game is eight weeks."
Regarded as one of the most promising midfielders of his generation, Wilshere has been hampered by injuries, including a fracture on his right ankle that ruled him out of the 2011-12 season. He has played 33 matches this season, scoring five times and adding five assists to his tally as Arsenal asserted itself as a serious title contender.
But the Gunners lost Walcott in January, record signing Mesut Ozil's form nosedived during the winter and striker Olivier Giroud got embroiled in personal issues as the Gunners seemed to be losing momentum. After a 5-1 thrashing at Liverpool last month, Arsenal was outclassed 2-0 by Bayern at home before a 1-0 defeat at Stoke last weekend.
To compound Arsenal's problems, Wenger also has doubts about Laurent Koscielny's fitness after the defender did not play for France this week with a hamstring problem.
"His scan is clear but we will have to test him today," said Wenger, who might have to replace his defensive lynchpin with Thomas Vermaelen against Everton.
Wales captain Aaron Ramsey is also sidelined with a thigh injury, and Kim Kallstrom is suffering from back problems.