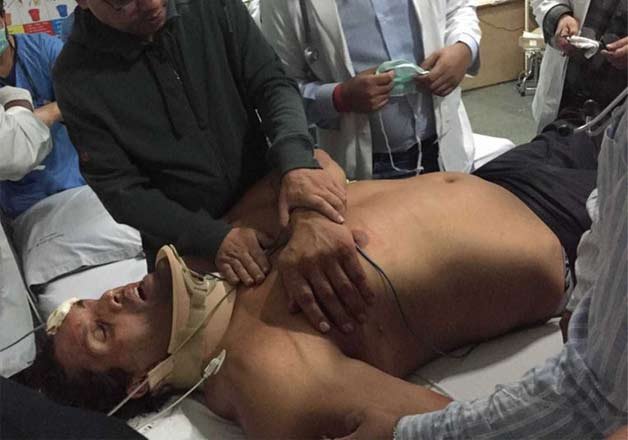 Dehradun: Former WWE wrestler Dalip Singh Rana, better known by his ring name 'The Great Khali', suffered a severe head injury during the Continental Wrestling Entertainment show at Haldwani, Uttarakhand.
Khali sustained a head injury during the first show of 'The Great Khali Returns Series' while fighting against foreign wrestlers -- Mike Knox and Brody Steel -- at the Rajiv Gandhi International Stadium, Gaula Par, Haldwani. Khali was left stranded alone when the two entered the ring and started beating the Indian with chairs.
The Indian star could not fight back and was left bleeding in the ring. He was stretchered away and was taken to Birajlal Trauma Centre in Haldwani, where CT scan and X-Rays revealed there was a fracture in his head.
The doctors suspect that Khali has suffered injuries to his chest as well but the exact nature of injuries are yet to be known.
Khali has been under observation and tests are being conducted on him to know whether he has suffered injuries to his chest as well," one of the organisers of The Great Khali Returns Series said.
He received seven stitches on his head last night before being flown to Uttarakhand capital.
The second show of this series is scheduled to be held here on February 28. Khali was crowned the World Heavyweight Champion in 2007.
With Agency Inputs