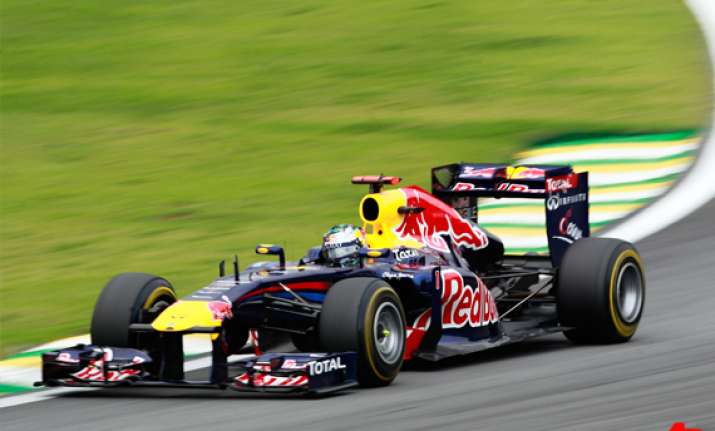 Sao Paulo, Nov 27: Sebastian Vettel won his 15th pole position of the Formula One season at the Brazilian Grand Prix on Saturday, breaking former world champion Nigel Mansell's 19-year record.

Vettel, who has already won the F1 title, finished in a time of 1 minute, 11.918 seconds at the 4.3-kilometer (2.6-mile) Interlagos track.

The 24-year-old German drew level with Mansell after winning his 14th pole at the Abu Dhabi GP two weeks ago.

Vettel's Red Bull teammate, Mark Webber, was second with a lap of 1:12.099.

Jenson Button of McLaren was third in 1:12.283, and teammate Lewis Hamilton will start fourth with a time of 1:12.480. Two-time world champion Fernando Alonso is fifth for Ferrari.

Vettel parked his car and put his finger up to show who was No. 1 again, in his trademark celebration that has been present all year long.

"This is really special, it's different from the other poles," Vettel said.

Mansell set the record with Williams in a 16-race season in 1992, when he also won nine races to win his only F1 drivers' title.

He failed to start from pole only at the Canadian GP and at the Hungarian GP that year. Mansell had six straight poles to start the season and five consecutive to finish it.

Vettel broke the record in 19 races. He failed to win the pole only in Spain, England, Germany and Korea. His worst starting position was third - in Germany.

With the title already decided in favor of Vettel since the Japanese GP, virtually the only thing at stake in Brazil is the fight for second place, with Button, Alonso and Webber still with a chance to finish runner-up. Button has a 10-point lead over Alonso and an 18-point advantage over Webber.

Vettel dominated the season with 11 victories, but it was Hamilton who won the last race in Abu Dhabi after a tire failure forced Vettel to retire on the first lap.

Red Bull also has already won the constructors' championship, with McLaren finishing second and Ferrari third.