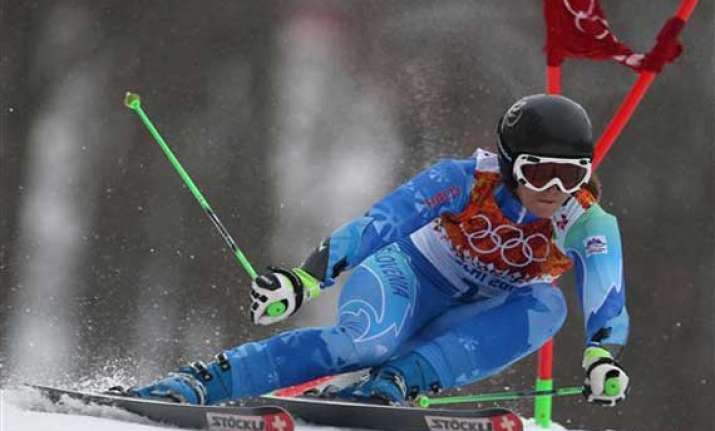 Krasnaya Polyana, Russia:
Tina Maze took a big lead in a rain-soaked giant slalom on Tuesday as she seeks a second gold medal at the Sochi Olympics.   
Maze, who tied for victory in the downhill, used the best snow conditions starting No. 1. The Slovene's first-run time of 1 minute, 17.88 seconds was 0.52 faster than Jessica Lindell-Vikarby of Sweden.   
Nadia Fanchini of Italy was third, 0.65 behind, and super-G winner Anna Fenninger of Austria was fourth, trailing Maze by 0.85.   
Driving rain lower down the course and wet snow at the top affected racers' visibility and ability to carve clean turns on a course already softened by days of sunshine.   
"It's like skiing on sugar," said Maria Pietilae-Holmner of Sweden, who was 1.57 back in seventh. "It's hard to ski the way you want to ski."   
American teenager Mikaela Shiffrin, making her Olympic debut, was fifth-fastest and has 0.91 to make up in the second leg.   
"Just loosen up my legs and go for it," Shiffrin said of her planned tactics. "I was nervous at the start but when I was in the gate I wasn't, I just wanted to ski."   
The second run is scheduled to start at 1 p.m. (0900 GMT) but could be postponed to another day.   
Four years ago, the second GS run at the Vancouver Olympics was postponed by fog which blanketed the course by lunchtime. That race was completed the next morning. Defending champion Viktoria Rebensburg of Germany was sixth-fastest Tuesday, 1.36 behind.   
The first run became valid Tuesday when all 90 listed racers had a chance to start, but not everyone was happy with it.   
"I'm really upset because we had the same conditions in Vancouver for an Olympic race. An athlete prepares all year for one race and it's really a shame when the conditions are like this," said Denise Karbon of Italy, who was eighth.   
They included pop-classical violinist Vanessa-Mae, racing for Thailand as Vanessa Vanakorn. Wearing No. 87, she was the slowest of 74 finishers, trailing 26.98 seconds behind Maze.   
Maria Hoefl-Riesch of Germany did not start in what is her weakest event because of a slight cold.   
The super-combined champion and super-G silver medalist went to the course to warm up but chose not to race. She will defend her slalom title on Friday.   
Julia Mancuso, GS champion at the 2006 Turin Olympics, skied out midway down the final pitch.   
"Definitely with the snow surface not being consistent and you can't really see it, it's hard with timing," said the American, who took bronze in the super-combined.   
Maze has been the most consistent women's skier at the Sochi Games. Mancuso edged her off the super-combined podium by just 0.10 seconds and she was fifth in super-G.   
Her first-run Tuesday recaptured her standout form in GS last season when she had top-three finishes in all 10 races, including a silver medal at the world championships.