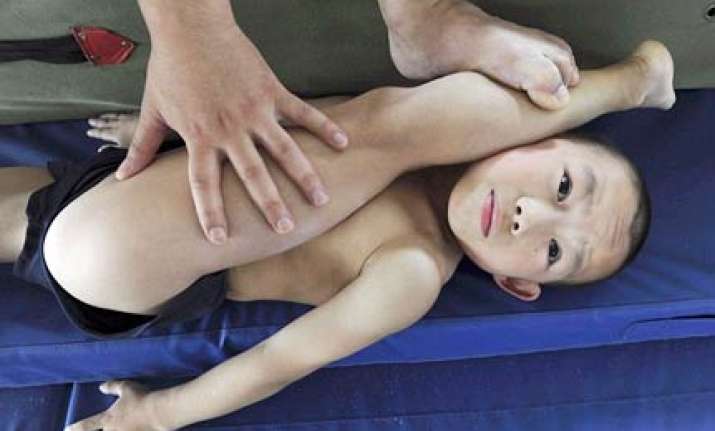 Chinese children, aged between four and seven,  are contorted into the most uncomfortable positions in the country's bid to nurture future gymnasts, reports The Daily Mail, London.
The children are put through a rigorous stretching routine by their coaches during a training session. One youngster has his hamstrings stretched out as his instructor pins his leg almost vertically alongside his head.
And girls are made to perfect their balance by standing on one leg while holding their other limb above their heads.
The gymnasts were taking part in a training session at the gymnastics hall of a sports school in Jiaxing, in the Zhejiang province in China.
Chinese officials have insisted that tough new eligibility rules will end the type of 'age cheat' scandal which saw a Chinese gymnast stripped of her bronze medal.
Dong Fangxiao won gold as part of the China women's team event at the 2000 Olympic Games in Sydney, Australia.
The International Gymnastics Federation (FIG) decided in February to cancel all results obtained by Miss Fangxiao and the International Olympic Committee followed in April by stripping China of the medal.
An investigation by the FIG revealed she was only 14 when she competed in the games. Athletes must be 16 in the year of the games to be able to take part.