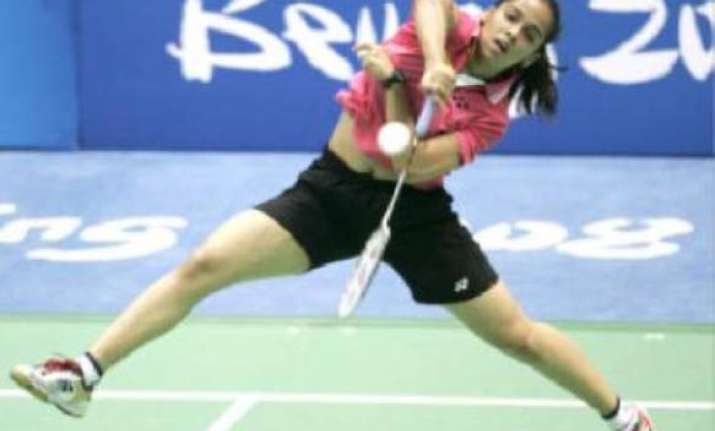 Bangkok, Jun 10: Top seed Saina Nehwal recovered from a second-game hiccup to beat Japan's Mitani Minatsu and move into the quarterfinals of the Thailand Open Grand Prix Gold tournament in Bangkok on Thursday. 

Her victory rounded off a fruitful day for the Indian singles squad after 14th seed P Kashyap and unseeded Sourabh Verma marched into the last-eight stage in the $120,000 prize money tournament.

Saina, who got the better of former world champion Lu Lan of China in the opening round, prevailed over the unseeded Japanese 21-13, 15-21, 21-7 to set up a quarterfinal clash against seventh seed and Asian champion Li Xuerui of China, who defeated Indonesia's Maria Febe Kusumastuti 18-21, 21-8, 21-9.

In men's singles, Kashyap smashed past Mohamad Arif Abdul Latif of Malaysia 21-16, 19-21, 21-12, while Verma defeated qualifier Beng Hong Kuan 21-19, 23-25, 21-14.

Kashyap will now face top seed Chen Long of China and Verma faces third seed Sung Hwan Park for a berth in the semifinal.In the men's and women's doubles, India's challenge finished in the first round.

Eighth seed Jwala Gutta and Ashwini Ponnappa went down 23-21, 21-13 to Hong Kong's Lok Yan Poon and Ying Suet Tse, while Rupesh Kumar and Sanave Thomas lost to fifth seed Chinese pair of Biao Chai and Zhendong Guo 21-8, 21-14.