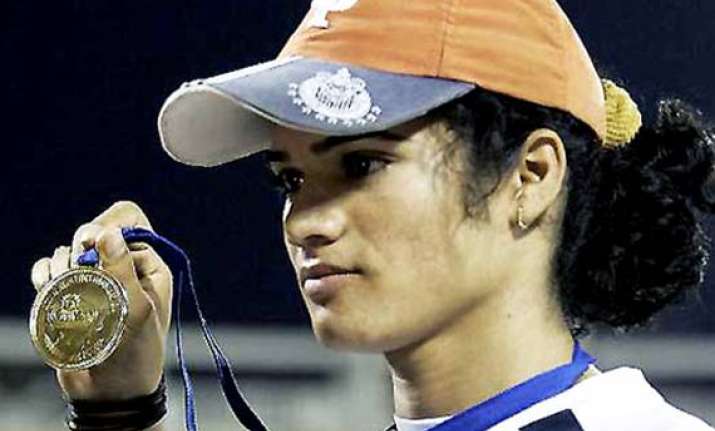 Kolkata, June 25: The mystery over the gender of Asian Games gold medallist Pinki Pramanik continued as the karyotyping test to determine the chromosome pattern could not be held at the state's referral SSKM Hospital.
An 11-member medical team today conducted various tests on the long-distance runner at the SSKM hospital but the most crucial test to determine the gender still could not be held.
"In our clinical examination, we conducted several tests.  But the karyotyping could not be held here. We have the karyotyping facility but only for research purpose," Tamal Kanti Ghosh, medical superintendent of SSKM Hospital, told PTI today.
Asked where they would send the sample, Ghosh said:
"There are facilities in Mumbai, Hyderabad among others. But we are yet to decide on it. We have to submit our reports at the chief judicial magistrate by June 29."
Six days earlier, a seven-member specialists at the Barasat General Hospital could not establish Pramanik's gender because of inadequate facilities and the former long-distance runner's case was sent to the state's only referral hospital.
Pramanik, accused of rape and of being 'male', is currently in judicial custody.
The athlete, who had won the 4x400m relay women's gold in the Doha Asian Games 2010, was arrested on June 14 after being accused of multiple sexual assault and misrepresentation of gender by a 30-year-old woman who had a live-in relationship with the athlete for two years.
The 27-year-old, who had won five gold medals and one silver between 2005 and 2006, officially retired the next year, but there were reports that the athlete was not allowed in a Madurai national meet because of 'excessive male hormones'.
Pramanik's counsel Tuhin Roy claimed that the entire case was fabricated and also asserted that the athlete was a female.
"The entire case is fabricated. She is a female and the tests will now prove that," Roy told reporters.
Pramanik was brought from the Dum Dum Central Correctional Home to the SSKM in the afternoon as she was first taken to the forensic and state medicine department.
Later, she was taken for an MRI and USG and other tests, hospital sources said.
The medical board includes a psychiatrist, radiologist, a gynaecologist and an anatomist among other experts.