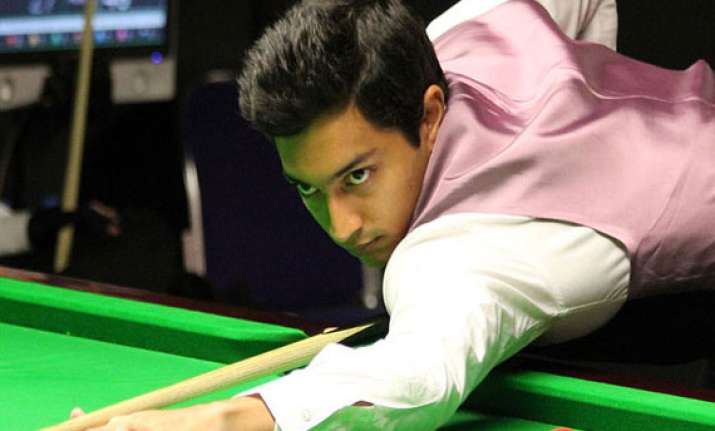 New Delhi: India's leading cueist Aditya Mehta rewrote history by entering the semi-final of a major ranking event, defeating compatriot Pankaj Advani 4-3, here Thursday.
Continuing his great run after ousting World No 18 Mark Williams in the pre-quarters, the Cali World Games gold medallist put all his snooker experience on the green baize to beat eight-time world champion Advani 70-29, 0-70, 82-68, 43-58, 24-65, 66-45, 72-0 in one of the longest-played quarterfinal matches on the professional circuit.
Mehta had, earlier in the day, become the second Indian cueist after Advani to reach the quarters of the Indian Open when he overcame a spirited challenge from the double world champion in the Round of 16.
Mehta will play Stephen Maguire in the semi-final tomorrow. Maguire defeated Michael White 4-3 in the other quarterfinal of the evening. In a scrappy affair between the two Indians, Mehta found himself a frame behind at the start of the match going all guns blazing to comfortably take the lead.
From there on, it was a battle of safety as Mehta set the pace of the match with a tremendous amount of safety play, not allowing Advani to be the aggressor. Failing to take any chances, Mehta potted what was available and then snuck up from behind to draw parity in the match at 1-1. The third frame took over an hour as both players did not want to leave the other with any opening, which Advani finally grabbed on the black ball.
Advani, however, squandered a healthy lead in the fourth as Mehta made a remarkable comeback to make it 2-2. From there on, Mehta was in command as he took the fifth comfortably. Advani fought back to bring up the decider but Mehta sealed the frame and match with some fine snooker.
Mehta becomes the first Indian to make it to a semifinal stage of a ranking event.