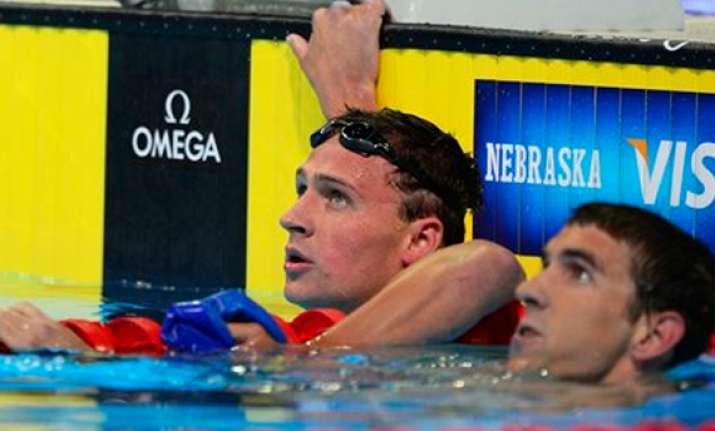 Nebraska, Jun26:  Ryan Lochte won his latest showdown with the most successful Olympian ever, beating Michael Phelps in the 400-meter individual medley at the U.S. Olympic swimming trials Monday.
In taking the first spot on the Olympic team, Lochte extended his dominance of Phelps that goes back to last year's world championships, where the 27-year-old won five gold medals and both of his head-to-head races against Phelps.
"The first race is always the hardest," Lochte said. "I can take a deep breath now, relax and whatever happens, happens."
Phelps started strongly on the butterfly leg, his strongest stroke, but Lochte took command when they switched to the breaststroke. He built a lead of about a half-body length and held off Phelps in the freestyle finish, cruising to the wall with one arm extended to post a time of 4 minutes, 7.06 seconds. He got a kiss from his dad, Steve, as he came off the deck.
Phelps claimed the second Olympic spot in 4:07.89.
"I was very pleased with that," Phelps said. "I said if I went 4:07, I'd be happy."
Tyler Clary, who took second at last year's world championships, won't even get a chance to swim the event in London. He faded to third in 4:09.92 and was so upset he didn't even bother to stop for the media in the mixed zone.
Phelps won the 400 IM at the past two Olympics, but vowed to drop the grueling event after Beijing. In the past year, he brought it back—and now he'll be swimming it again in London.
That means he could take another shot at eight gold medals in London—the mark he set in 2008, eclipsing Mark Spitz's iconic Olympic record.
Phelps will be heavily favored to claim a spot on the U.S. team in four other individual events at Omaha: the 100 and 200 butterfly, 200 free and 200 individual medley. If he again swims on all three American relays, as expected, Phelps would have another eight-event program at the Olympics.