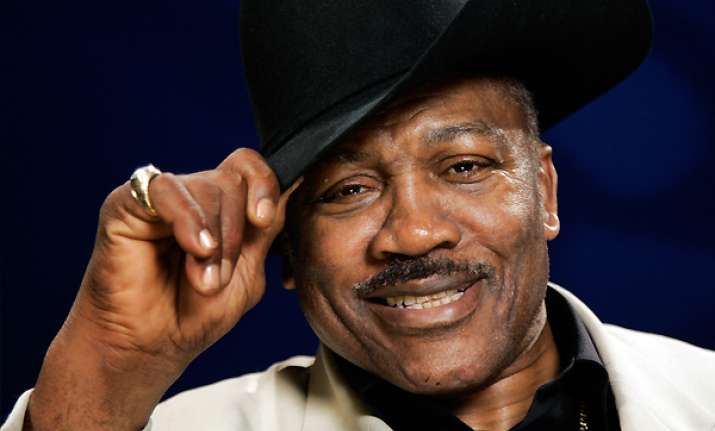 New York, Nov 8: Joe Frazier, the former heavyweight champion who handed Muhammad Ali his first defeat yet had to live forever in his shadow, has died after a brief fight with liver cancer. He was 67.

The family issued a release confirming the boxer's death.

Frazier, who took on Ali in three momentous fights in the 1970s - including the epic 'Thrilla in Manilla' - had been under home hospice care in his Philadelphia home after being diagnosed just weeks ago with the cancer that took his life.


'I will always remember Joe with respect and admiration,' Ali said in a statement about the death of his great rival. 'My sympathy goes out to his family and loved ones.'

The 1970s rivalries of Frazier, Ali and George Foreman will always be remembered as a golden age of heavyweight boxing.

Boxing promoter Don King called Frazier a giant among men.
'Smokin' Joe', as he became known, was a small yet ferocious fighter who smothered his opponents with punches, including a devastating left hook he used to end many of his fights early.

It was the left hook that dropped Ali in the 15th round at Madison Square Garden in 1971 to seal a win in the so-called 'Fight of the Century.'

Though he beat Ali in that fight, Frazier lost the two other bouts between the men and for many years was bitter about the role Ali forced him to play as his foil.


'You can't mention Ali without mentioning Joe Frazier,' said former AP boxing writer Ed Schuyler Jr. 'He beat Ali, don't forget that.'

They fought three times, twice in the heart of New York City and once in the morning in a steamy arena in the Philippines.

They went 41 rounds together, with neither giving an inch and both giving it their all.


In their last fight in Manila in 1975, they traded punches with a fervor that seemed unimaginable among heavyweights.

Frazier gave almost as good as he got for 14 rounds, then had to be held back by trainer Eddie Futch as he tried to go out for the final round, unable to see.

'Closest thing to dying that I know of,' Ali said afterward.


In a brief post-fight interview with one of the commentators, he said: 'Joe Frazier, I'll tell the world right now, brings out the best in me. I'm gonna tell ya, that's one helluva man, and God bless him.

'He is the greatest fighter of all times, next to me.'


Ali was as merciless with Frazier out of the ring as he was inside it. He called him a gorilla, and mocked him as an 'Uncle Tom' character.
But it had all began in 1971, when Frazier won a decision to defend his heavyweight title against the then-unbeaten Ali in a fight that was so big Frank Sinatra was an official press photographer at ringside for Life magazine and both fighters earned an astonishing $2.5 million


That night Burt Lancaster served as a colour commentator for the closed-circuit broadcast, after being hired by the fight's promoter Jerry Perenchio, who was also a friend of his.

The night at the Garden 40 years ago remained fresh in Frazier's mind as he talked about his life, career and relationship with Ali a few months before he died.

Frazier told The Associated Press: 'I can't go nowhere where it's not mentioned. That was the greatest thing that ever happened in my life.'


Though slowed in his later years and his speech slurred by the toll of punches taken in the ring, Frazier was still active on the autograph circuit in the months before he died.

In September he went to Las Vegas, where he signed autographs in the lobby of the MGM Grand hotel-casino shortly before Floyd Mayweather Jr.'s fight against Victor Ortiz.

An old friend, Gene Kilroy, visited with him and watched Frazier work the crowd.

'He was so nice to everybody,' Kilroy said. 'He would say to each of them, "Joe Frazier, sharp as a razor, what's your name?".'


Mayweather was among those paying tribute to Frazier on Twitter, saying: 'RIP Smokin Joe. My thoughts and prayers go out to to the Frazier family. We lost an all time great tonight'.

Tennis star Serena Williams tweeted: 'Joe Frazier you were a icon and pioneer for people like me. Inspiring and loved. Your presence will be missed.'

Frazier was small for a heavyweight, weighing just 205 pounds when he won the title by stopping Jimmy Ellis in the fifth round of their 1970 fight at Madison Square Garden.