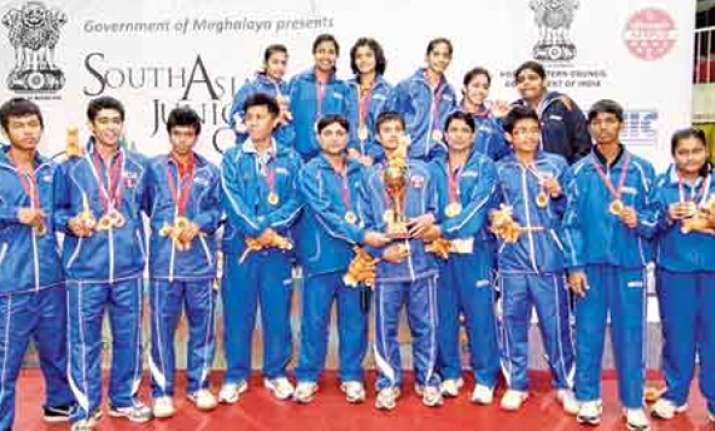 Shillong, June 20: Indian junior paddlers dominated the just concluded 12th SAF Junior Table Tennis Championship at the J N Sports Complex indoor stadium here.
The 12th SAF Junior Table Tennis Championship was held here from June 17-19.
They won all the six Golds yesterday putting a tally of 10 gold and four silver medals in the championship besides bagging four gold medals in team events.
Indian boys and girls were also left to compete against one another for the gold in the singles events of the junior boys and girls sections as well as in the cadet category.
In the junior boys section, No 2 seed Abhishek Yadav defeated No 1 Sudhanshu Grover 10-12, 11-7, 9-11, 11-4, 11-4, 11-7, while in the junior girls section Reeth Tennison overcame a tough Mallika Bhandarkar 4-3 (10-12, 11-7, 11-5, 6-11,11-7, 11-13, 11-4) in the best of seven finals.
In Cadet boys' Utkarsh Gupta won in straight games against Birdie Bora while Karnam Spoorthy emerged triumphant against Sutirtha Mukherjee in a gruelling final.
In junior boys' doubles, Abhishek Yadav and Sudhanshu Grover combined together to beat the Nepalese pair of Mani Lama and Anish Shrestha 3-0 and Reeth and Mallika won the junior girls doubles beating the Sri Lankan duo of Ruvini Sankalpana and Chandima Madushani for a similar verdict.