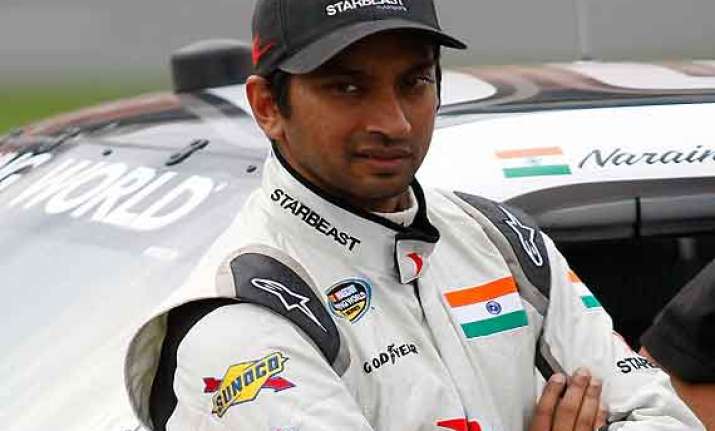 Greater Noida: Australian driver Daniel Ricciardo, who will drive for Red Bull in the 2014 Formula 1 season, has spoken highly of his former teammate Narain Karthikeyan.
"It was good working with Narain. He was really fast over a lap and he looked to push all the time. While you are doing that you are bound to make some mistakes," Ricciardo, who replaced Karthikeyan in the HRT team in the middle of 2011, told IANS Friday ahead of the Indian Grand Prix Sunday.
Karthikeyan returned to the Spanish outfit for the Indian Grand Prix where he teamed up with Ricciardo. The Indian beat the Australian for 17th place.
They have had contrasting career paths since then. Ricciardo, 24, has been with Toro Rosso for the last two seasons and will be in the hot seat of Red Bull next year.
Karthikeyan, 36, could not find an F1 seat after HRT shut shop at the end of 2012. He moved to Auto GP where he impressed with five wins.
But life has surely changed for Ricciardo since last month when it was announced he will partner reigning champion Sebastian Vettel in 2014.
Has the Perth born driver come to terms with his elevation?
"No, not really. I think around the time of the announcement it was pretty hectic with the media and everything but it's nicely calmed down now. It's good. I'm sure once I hop in the car next year it will probably rise again but it's been a quiet few weeks. I had a bit of time to myself, which is good."
Asked whether he imagined driving for Red Bull two seasons after being with a small team like HRT, Ricciardo said: "Seemed like a fair way away at the time (the HRT days) but I think that going back years before that, since I got Red Bull supporting me and knowing what opportunities I had with them, then I think anything was possible.
"With HRT, I knew there was a bit of a road to travel on, but yeah, it's come along quite quickly, obviously to my delight and as I've said, I can't wait but if you would have said, back in 2011, that I would be in a Red Bull seat in 2014 then I would have smiled and said 'beauty'," said the affable Australian.
He will be replacing none other than compatriot Mark Webber at Milton Keynes. Both of them are enjoying their time in India and as Aussies it is no surprise they connect with cricket.
"One other thing I found out, just touching on the cricket, apparently myself and Mark (Webber) don't come from Australia. We come from Ricky Ponting country! That's what they all say here. Nice," signed off Ricciardo.