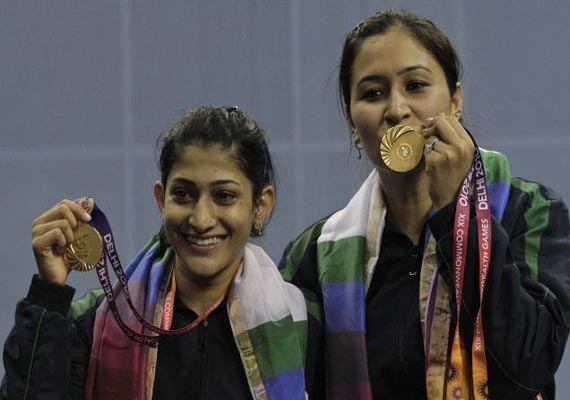 New Delhi, July 25: The Indian Badminton League (IBL) organisers on Wednesday defended their decision to slash the base price of two of the six Icon Players, Ashwini Ponnappa and Jwala Gutta, who were livid that their base prices were halved at the players' auction.
Jwala and Ashwini on Tuesday told the media they were "disappointed, disgusted and hurt" when their $50,000 base tags were reduced to $25,000 as they went unsold at the closed bidding Sunday.
After the cut, Jwala was sold to Delhi Smashers for $31,000 while Ashwini was given to Pune Pistons for $25,000 in the open auction on Monday.
The organisers, however, announced they would compensate the two by paying Jwala $19,000 and Ashwini $25,000, so that they at least get their contractual base price.
"I do not understand what the fuss is all about. We have been fair to them (Ashwini and Jwala) despite the fact that they went unsold in the closed auction. We have ensured they got their base price and also their icon status, so what is the big deal?" chief executive of Sporty Solutionz, commercial partner of the IBL, Ashish Chadha told IANS.
When the duo, who together won the 2011 World Championships women's doubles bronze in London, went unsold at the closed auction for Icon Players on Sunday, many franchises wanted them dropped as icons.
On Ashwini and Jwala's complaint that they should have been informed before taking such an important decision, Chadha said it was not possible as it was taken at the 11th hour.
"I do not know how we could have possibly informed them when the decision was taken at 4 a.m. on Monday morning. What else could we have done? It was all done transparently and there is a video footage of the deliberations to close bid. If someone wants to come and see it, they can do it anytime instead of creating the fuss," added Chadha.
IBL governing council member Pullela Gopichand also defended the decision and hoped the matter would be sorted out soon.
"With due respect to what they (Jwala and Ashwini) are saying, I think the IBL has ensured that the players were not at a financial loss. I hope this issue gets resolved as we must move on," said Gopichand, also the chief national coach.
The other four icons had no issues, all getting sold for much more than their base prices of $50,000.
India's top shuttler and Olympic bronze medallist Saina Nehwal was sold to Hyderabad Hostshots for a whopping $120,000 while World No.1 Lee Chong Wei of Malaysia got the highest bid of $135,000 from Mumbai Masters. World No.13 Parupalli Kashyap ($75,000) and P.V. Sindhu ($80,000) were sold respectively to Banga Beats and Lucknow Warriors.
The league kicks off on August 14 with a tie between Delhi Smashers and Pune Pistons. Each franchise will host a two-day leg with a total of 90 matches. The top four franchises will clash in the semi-finals and the winners will meet in the final August 31 in Mumbai.