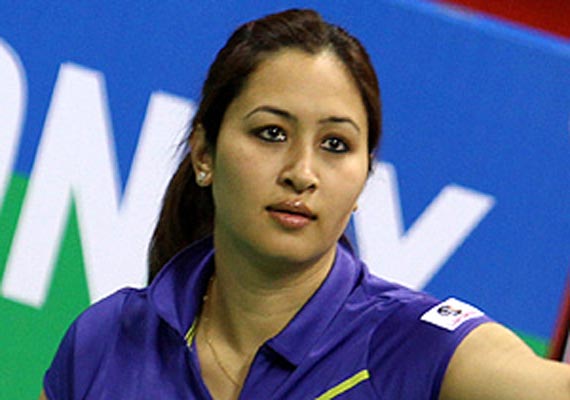 New Delhi, July 25: Top Indian doubles player Jwala Gutta said Wednesday that the Indian Badminton League (IBL) could have handled the controversy over the players' auction better and resolved it with grace.
There was high drama at Monday's auction here as the organisers were forced to change the rules for two of six Icon Players, Jwala and Ashwini Ponnappa, who went unsold during the closed auction for icons Sunday. The duo, however, were sold in the open auction Monday with a reduced base price of $25,000 instead of their original $50,000.
Jwala was sold to Delhi Smashers for $31,000 while Ashwini went to Pune Pistons for $25,000 as the last Icon left in the fray.
According to the rules, it is mandatory for every franchise to have an icon and Pune had to perfoce take Ashwini.
"I wished they had informed us before taking any last-minute decisions. I am upset not because I got less money, but the way it was done. They could have easily sorted it without all the hype and publicity," Jwala told IANS.
Though the IBL has announced that it will compensate Jwala with $19,000 and Ashwini with $25,000 so that the two at least get their base price, Jwala still feels they could have done without all the hullabaloo.
"If the matter got highlighted in the media, the IBL should accept it was its doing. I understand this a franchise game, so the IBL should not indulge in any blame game now," added the 29-year-old Hyderabadi, who with Ashwini won the women's doubles bronze at the 2011 World Championships in London.
"I look forward to playing for team from the capital of the country and I am happy being bought by Krrish Group (owners of Delhi Smashers)."
After the women's doubles was dropped from the league, the franchises were not interested in Jwala and Ashwini as Icon Players in the closed auction. Promptly, the IBL Governing Council stopped the bidding and the two came under the hammer in Monday's open auction.