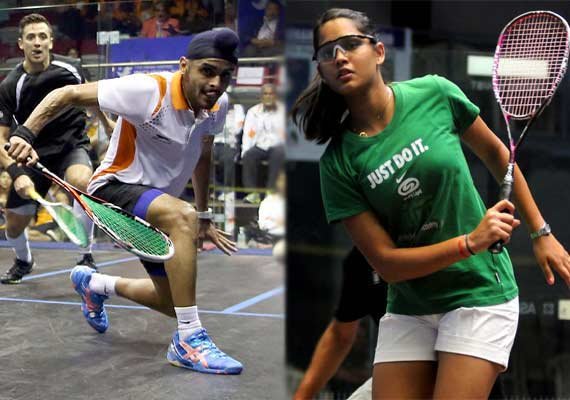 Chennai: Harinder Pal Sandhu helped himself to his third title and Dipika Pallikal her second on the trot in the four-leg JSW Challenger Squash Circuit here today.
Harinder defeated the top seeded Egyptian Karim Ali Fathi while top seeded Dipika accounted for second seed Misaki Kobayashi of Japan. Both won in straight games and the way they went about for victory had a similar ring to it.
Both Dipika and Harinder effectively snuffed their opponents out with some tight play. Having had a good outing in the semi-final, Dipika was in the right frame of mind from the first point. Keeping the returns long and ensuring Misaki does not get any leeway to make gains, Dipika reeled away points to get into a strong position. Misaki too did not help her own cause with repeated unforced errors, mostly trying to find the area above the tin with a drive or boast.
The Japanese however worked up a good fight in the third game and for the first time earned a handy lead too. But Dipika was not one to lose pace. She used the angle shots to good effect and variations in returns also helped her ensure Misaki did not run away with a big lead. As the game reached the business end, Dipika forged ahead and there was no stopping her from there.
"As a junior I had lost to her. She is not an easy opponent. I ensured she did not design any comeback," said Dipika.
Harinder too continued from where he left in the semi-final when he scalped another Egyptian. But then Fathi was a different customer, one whose reach was commendable and who could use the court well. Rallies featured in the initial play with each point that Harinder got triggering loud cheers in the indoor hall.
The overwhelming support for Harinder possibly unsettled the Egyptian who tended to slip. It helped Harinder though as he tightened his returns, kept pushing Fathi on the backcourt. Mixing the drives and drops well the Indian could evoke mistakes in Fathi and slowly but surely the Egyptian caved in.
The brief fight in the third game notwithstanding, Harinder worked his way to victory. "It feels great to be playing at my best. It all started with the gold medal performance in the Asian Games and I am hoping to continue like this. Hopefully these three title wins should help me jump in my ranking this year. I am thankful to all my coaches in ISA for this wonderful run in form," said Harinder.
The results: final: PSA: Harinder Pal Sandhu (Ind) bt Karim Ali Fathi (Egy) 11-8, 11-3, 11-6; WSA: Dipika Pallikal (Ind) bt Misaki Kobayashi (Jpn) 11-6, 11-2, 11-8.