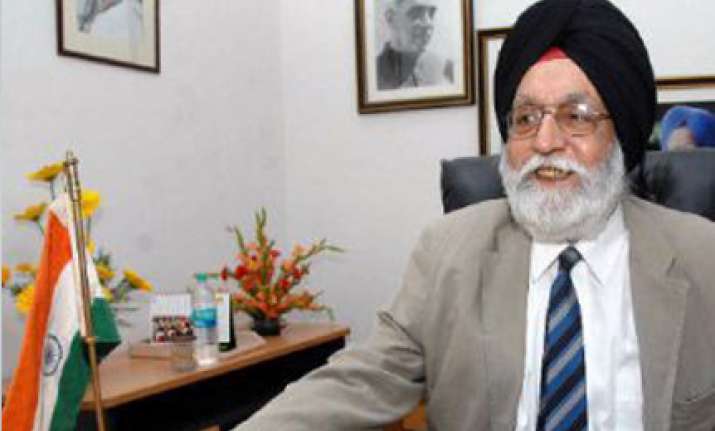 Sports Minister M S Gill will attempt to resolve a bitter dispute between the 2010 Commonwealth Games Organisers and its parent body in London later this week amid indications that both the warring parties would try to work out a compromise. 
The build-up to the Commonwealth Games has been marred by a series of controversies and unsavoury pubilc spat between Organising Committee chairman Suresh Kalmadi and CGF Chief Executive Officer Mike Hooper. 
The dispute reached boiling point on October 15 when the OC demanded Hooper's transfer out of Delhi calling him "useless" and "an impediment" to the smooth functioning of the Organising Committee. 
Hooper, however, received the full backing from the Commonwealth Games Federation with its president Michael Fennell making it clear that he would not be asked to leave India. 
Kalmadi though has climbed down a bit from his earlier tough stand. Before his departure for London for the Queen's Baton Relay on October 29, he said he did not want any more confrontations and would try to resolve the issues through talks. 
The other bond of contention revolved around the CGF's proposal to form an independent monitoring panel to oversee the preparations for the October 3-14 sporting extravaganza. 
Though the CWG OC rejected the proposal, Fennell has made it clear that he would stick to the monitoring panel. 
As the showdown between the two parties intensifies, Sports Minister Gill had stepped in to broker peace and has already had a meeting with Kalmadi before the OC chairman left for London for the QBR. 
The top brass of the CGF as well as the OC will be in London for the QBR scheduled for October 29-30. This will give Gill the opportunity to interact with Fennell and get his views on the tussle that has been going on for some time. 
"Whatever has happened is not right and shouldn't have happened. I am going to London for the Queen's Baton Relay on October 29 and there I will meet Commonwealth Games Federation chief Mike Fennell and Kalmadi. I will talk to them and try to resolve the matter. I will listen to both the sides," Gill had said. 
Wary of further slippages in the capital's preparations, the CGF, at its Executive Committee meeting here on October 12, had decided to form an independent monitoring panel to oversee the progress of work so that the deadlines are met.
However, that proposal was met with stiff opposition with a miffed CWG OC rejecting it outright.
The OC also set the stage for a showdown with the CGF demanding the transfer of its CEO Hopper who has been camping here for the past two years. 
Fennell rejected Hooper's transfer besides also making it clear that the monitoring panel will not be scrapped. He bluntly told the CWG Organising Committee to focus on the work at hand instead of calling for somebody's head. PTI