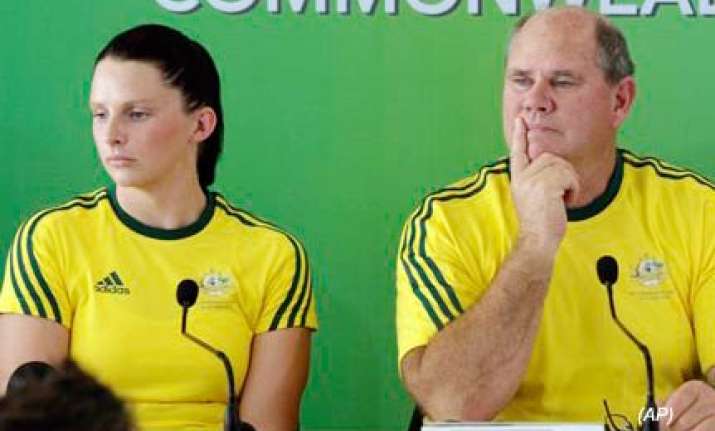 An outbreak  of sickness that has swept through Australia's Commonwealth Games swimming team - resulting in questions about hygiene at the pool - has not stopped the emergence of a new star, reports The Age, Melbourne.
More than a dozen Australian swimmers have been hit by illness, including likely medallists Hayden Stoeckel and Andrew Lauterstein who withdrew from events yesterday after they complained of vomiting and diarrhoea.
But 23-year-old Alicia Coutts has been blissfully unaffected, last night winning her third individual gold medal when she powered away from her British rivals in the 100 metres butterfly. She added this title to her 200 metres individual medley and 100 metres triumphs earlier in the Games.
An investigation was ordered into the possibility that contaminated water from the warm-up pool at the Dr SP Mukherjee Aquatic Complex was responsible for the illness in the Australian and English swimming camps.
''We must find this out immediately. If there's something unsafe you can't swim in that water,'' said Commonwealth Games president Mike Fennell.''
But late last night it was reported that testing had cleared the pools at the complex of any hygiene problems.
Australian head coach Leigh Nugent suggested the battle between Australia and England in the pool could be determined by which team has the fewest cases of illness.
''[Lauterstein is] our No. 1 flyer and [Stoeckel our] No. 1 backstroker,'' Nugent said. '''They might be all right tomorrow. We'll see how they are and if they're OK we'll give them the opportunity to trial for the relay. So all is not lost for them yet.''
England has reported up to 20 per cent of its team - including 50-metre butterfly gold medallist Fran Halsall - have become ill.
Chef de mission Steve Moneghetti and Fennell confirmed earlier that the water at the swimming complex had been tested during the event, but what were unaware of the findings.
Moneghetti, after discussing the issue with Australian team doctor Peter Harcourt, would not rule out the possibility that contaminated water from the pool was making his athletes sick. ''We've got three cases that have gone probably to the next stage, rather than just a bit of an upset stomach he's calling it an actual gastroenteritis. And there's another five cases that are just the tummy bug.
''Separate to that there seems to be a situation with the swimmers. There seems to be a larger number of swimmers … it seems quite isolated to the swim team at this point in time. The doctor's opinion … he doesn't think it's food related because it seems more confined to one particular sport and obviously we're all eating in the dining hall … and there's very few cases across the board.''
For Coutts, delighted at breaking through to the big time, it was a non-issue. ''I definitely didn't think I'd be getting even one gold medal, let alone three,'' she said, putting her performance down to ''a newfound confidence''.
In other competition yesterday, Australia won all four gold medals on offer in track cycling, including a third gold for Anna Meares and redemption for Shane Perkins in the men's sprint after controversy over his obscene hand gesture, while 16-year-old Victorian schoolgirl Alethea Sedgman claimed shooting's first gold of the Games.