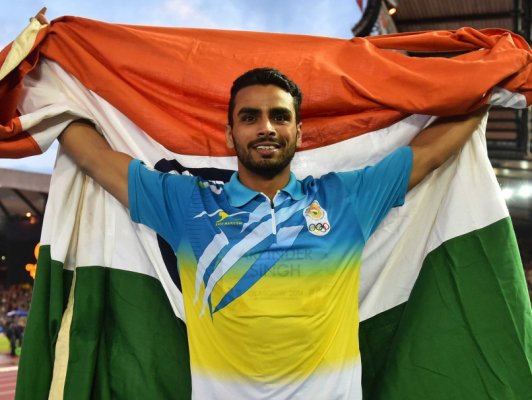 New Delhi: Glasgow Commonwealth Games bronze medal winning Indian triple-jumper Arpinder Singh Sunday said he is focusing on improving his running technique that affected his performance at the 17th Asian games in Incheon.
Arpinder managed a best leap of 16.41 metres, considerably below his national record setting best of 17.17m, to finish fifth in the men's final, witnessing four of his attempts being disqualified due to touch fouls.
He registered 16.41m on his first in six attempts that reduced his chances of winning a medal significantly. He managed to jump 16.13m in his only other legal attempt.
"By my standards, the performance was poor. Four of my jumps were disqualified because of touch fouls as I overstepped. I am focussing on my running technique now. Trying to improve it with my coach. I am looking at rectifying my mistakes. I am looking forward to the World Championships in Athletics in 2015," Arpinder said, on the sidelines of a marathon event here.
The championships will be held in Beijing Aug 22-30.
He also blamed unfavourable windy conditions at the stadium on the day of his jump for his below-par performance.
"My performance was poor because of a strong wind blowing in the stadium at that time. Not only me, the performance of most athletes got affected by the wind," he said.
China's Cao Shuo claimed the gold in the discipline with his season's best leap of 17.30m but well below the world record set by British athlete Jonathan Edwards of 18.29m.
"I decided to conserve energy in my first jump and leapt within myself and managed 16.41m. But from the next jump onwards I focussed on increasing the distance and overstepped on my next two attempts," 21-year-old said.
"I repeated that mistake in the fifth and sixth jump as well. Though I crossed a fair distance in my jumps but I committed fouls, so they didn't count."
He said his lack of experience in performing at top events is the reason behind his repeated mistakes and hoped with increased exposure these fouls won't be committed in future events.
"I have crossed the 17m mark in my jumps consistently but fouls are undermining my efforts. Now my entire training is focussed on reduction of these fouls," he said, adding that his target is to break into the 18m mark, keeping in mind the Olympics in 2016.
"By the time of Rio Olympics, I will gain more experience and will reach the advanced age of 24 years and hopefully be on peak of my abilities."