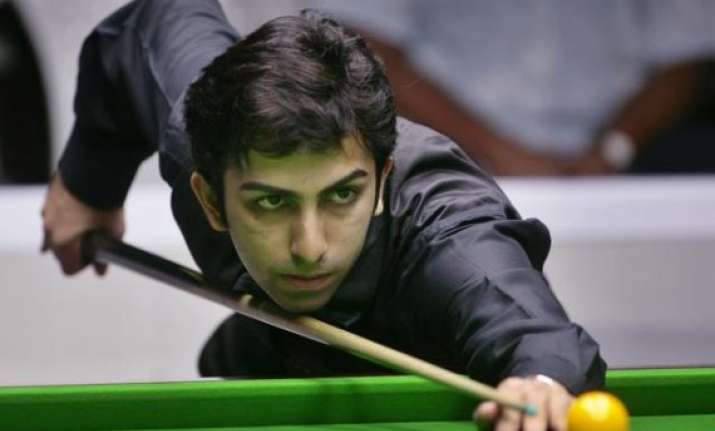 Leeds: Pankaj Advani set up a mouth-watering clash with top seed and defending champion David Causier in the pre-quarterfinals of the World Billiards Championship (points format, 150-up) after both strolled through their respective round of 32 matches, here Wednesday.
While Advani, aided by breaks of unfinished 70, 152 and 94, eased past Larry Drennan of Ireland 4-0, Causier drubbed fellow-Englishman Jonathan Marwood by the same scoreline, signing off with two unfinished runs of 128 and 151 in the third and fourth frames, respectively.
Also through to the round of 16 were Ashok Shandilya, Sourav Kothari, Rupesh Shah, Devendra Joshi, Alok Kumar, Jaiveer Dhingra, Arun Agarwal and Siddharth Parikh.
The results (India matches):
Round of 32: Devendra Joshi bt S Venkateswaran 4-0; Pankaj Advani bt Larry Drennan (IRE) 4-0; Nalin Patel (ENG) bt Aditya Agarwal 4-0; Alok Kumar bt Mark Hirst (ENG) 4-1; Jaiveer Dhingra bt Balachandra Bhaskar 4-2; Rupesh Shah bt Dhvaj Haria 4-2; Arun Agarwal bt Chris Taylor (ENG) 4-2; Siddharth Parikh bt Peter Atkinson (ENG) 4-0; Sourav Kothari bt Steve Brookshaw (ENG) 4-1; Ashok Shandilya bt Robin Wilson (ENG) 4-3.
League: Group A - David Causier (ENG) bt Raj Kumar 3-0; Aditya Agarwal bt Wayne Doyle (IRE) 3-2. Group B: Pankaj Advani bt Joshua Burns (AUS) 3-0. Group C: Robert Hall (ENG) bt Jaiveer Dhingra 3-0. Group D: Matthew Bolton (AUS) bt Dhvaj Haria 3-0. Group E: Siddharth Parikh bt Fraser Durham (CAN) 3-0; Parikh bt Mark Hirst (ENG) 3-0. Group F: Balachandra Bhaskar bt Andrew Draper (ENG) 3-0; Bhaskar bt Akilesh Mohan (FRA) 3-0.
Group G: S Venkateswaran bt Peter Atkinson (ENG) 3-2; Alok Kumar bt Venkateswaran 3-0. Group H: Dhruv Sitwala bt Steve Truck (ENG) 3-0; Sitwala bt Ian Williamson (ENG) 3-1. Group I: Nalin Patel (ENG) bt Rupesh Shah 3-1; Shah bt Robin Wilson (ENG) 3-0. Group J: Devendra Joshi bt Neil Bolton (AUS) 3-1; Sourav Kothari bt Bolton 3-0; Joshi bt Stephen Kershaw (ENG) 3-0. Group K: Ashok Shandilya bt Arun Agarwal 3-2; Phil Davis (ENG) bt Sushrut Pandia 3-1; Agarwal bt Mark Hill (ENG) 3-0; Shandilya bt Pandia 3-0.