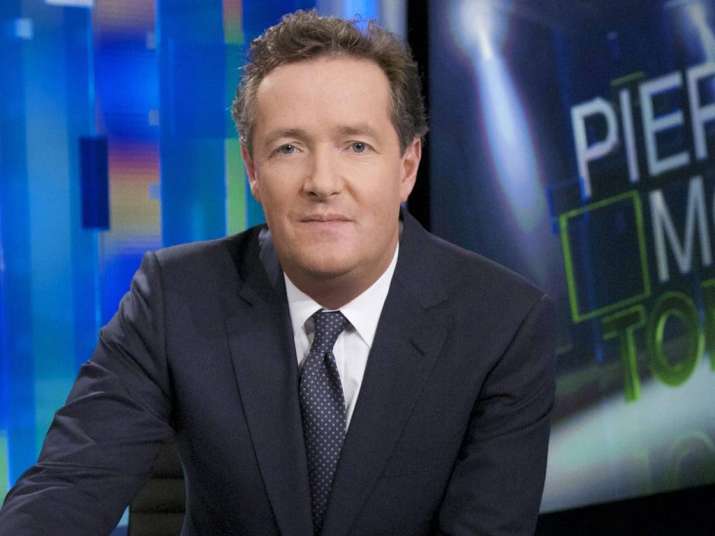 British journalist Piers Morgan on Wednesday got in a Twitter war with Indian social media users when he criticised India's hyped celebration of two Rio Olympics medals.
In response to an Indian twitter user who shared newspaper cuttings of welcome rallies of medallists PV Sindhu and Sakshi Malik, Morgan said, "Country with 1.2 billion people wildly celebrates 2 losing medals. How embarrassing is that?"
Twitterati did not take it lightly and came down heavily on 51-year-old TV personality for undermining India's Rio Olympics performance. 
Not one to take blows quietly, Morgan responded to trolls.  "1,200,000,000 people and not a single Gold medal at the Olympics? Come on India, this is shameful. Put the bunting away & get training.
Here are some of the tweets in reaction to Morgan's tasteless comment:
We honor achievers Peirs. Top 3 in the world,despite 3rd world sports facilities isn't loser.It is freaking amazing! https://t.co/pbFuP0Hmky

— Chetan Bhagat (@chetan_bhagat) August 24, 2016
What is even more embarrassing are your snivelling interviews as if you had a diaper in your mouth. Sad. https://t.co/9jf55sBwAU

— SUHEL SETH (@suhelseth) August 24, 2016
Why are you having a go at my Indian friends buddy ? I think enough talk about the Olympics & medal tallies ! Haha https://t.co/fnaVzYv8vM

— Shane Warne (@ShaneWarne) August 24, 2016
We cherish every small happiness',
But Eng who invented Cricket,&yet2win a WC,still continue to playWC.Embarrassing? https://t.co/0mzP4Ro8H9

— Virender Sehwag (@virendersehwag) August 24, 2016
.@piersmorgan LOL..2 Cricket World Cups, while England, the originator of the game, has Ghanta..How embarrassing is that?

— Aladdin (@Alllahdin) August 24, 2016
So much noise about English football, yet nothing worthwhile since 1966. How embarrassing is that?

— Bodhisattva Sen Roy (@insenroy) August 24, 2016
Morgan tried to get back at trolls:
Indian Twitter definitely wins Gold at trolling. If only their athletes were as skilled. https://t.co/MRO110udG4

— Piers Morgan (@piersmorgan) August 24, 2016
I know how to spell your name.
It was a little joke because you didn't know how to spell mine.... https://t.co/s7sKUecDyW

— Piers Morgan (@piersmorgan) August 24, 2016
That's OK mate, we're still trying to locate your athletes. https://t.co/POJZRAtrjN

— Piers Morgan (@piersmorgan) August 24, 2016
At least you'll never have to worry about being one of my interviewees, Suhel.
I only interview famous people. https://t.co/yPGf3TLtNr

— Piers Morgan (@piersmorgan) August 24, 2016
So generous mate, like you have been in 4/5 of the last Ashes series. https://t.co/eDw7gbWDih

— Piers Morgan (@piersmorgan) August 24, 2016
Dear Indian Twitter, @sachin_rt only follows 77 people & I am one of them. Do the maths. #Winners

— Piers Morgan (@piersmorgan) August 24, 2016
…but as he said, "Country with 1.2 billion people." 
Who on earth is Piers Morgan??

— Rati Parker (@ratigirl) August 24, 2016
.@piersmorgan

ODI World Cup for England = Error 404 not found. pic.twitter.com/oqRDfFZjYh

— Silly Point (@FarziCricketer) August 24, 2016
.@piersmorgan A country invented a sport but couldn't win a single world cup while its colonies have won it, how embarrassing is THAT 😂

— Gabbbar (@GabbbarSingh) August 24, 2016
.@piersmorgan Your mention tab right now 😂 pic.twitter.com/fXwYDyS7n4

— Rofl Gandhi 2.0 (@RoflGandhi_) August 24, 2016
.@piersmorgan Piers, population size has literally no correlation to sporting success at all.

— Jack Mendel 🏏🗞️ (@Mendelpol) August 24, 2016
He had some suggestion for us too:
If India can produce a batsman as brilliant as @sachin_rt then it can produce Gold medal winning Olympians. Needs investment & focus.

— Piers Morgan (@piersmorgan) August 24, 2016
India's the fastest growing economy on the planet. Stop whining & get training. https://t.co/AZDcb0XOWD

— Piers Morgan (@piersmorgan) August 24, 2016