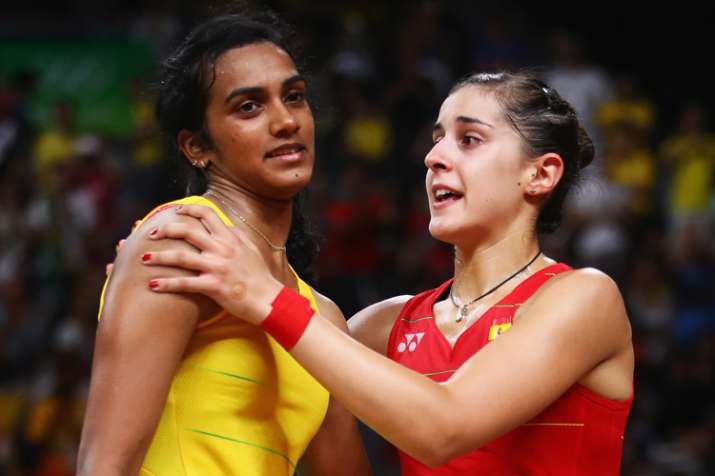 Indian women's singles star P.V. Sindhu lost in her second consecutive final of the Badminton World Championships here on Sunday.
Third seed Sindhu, who was a three-time World Championships medallist before this edition, fell 19-21, 10-21 against Spanish seventh seed and Rio Olympic champion Carolina Marin, who became the first women's singles player to win three world titles.
LIVE UPDATES, BWF BADMINTON WORLD CHAMPIONSHIPS 2018 WOMEN'S SINGLES FINAL
14.34 IST: That's it! Sindhu loses the second game 10-21 and the match 19-21, 10-21.
14.32 IST: Finally some fire from Sindhu. Still, a long way to go for her.
14.31 IST: Marin just 4 points away from winning the match, leads 17-5
14.30 IST: The Spaniard is proving too quick for the Indian ace. Marin 15-4 Sindhu.
14.27 IST: Coach Pulela Gopichand advising a losing Sindhu during the break. Marin leads 11-2.
14.23 IST: The crowd getting behind the players as Sindhu tries to make a match out of it. Marin 9-2 Sindhu.
14.21 IST: Unforced errors seem to be putting this match beyond Sindhu's reach. Sindhu 1-7 Marin.
14.20 IST: Sindhu yet to open her account in the second game. She trails 0-5.
14.17 IST: Marin starts the second game with a ferocious winner. Leads 2-0.
14.15 IST: There it is. Marin takes the first game 21-19. What an intense session of play that was.
14.14 IST: Game point!
14.13 IST: This is turning out to be a very close match. Scores stand tied at 18-18.
14.10 IST: Marin's fearsome play takes her into the lead. Sindhu 16-17 Marin.
14.07 IST: The Spanish player is making a return with some outrageous strokes. Sindhu still in the lead 15-13.
14.06 IST: An amazing rally of returns ends with Marin's shot landing outside the court. Sindhu 14-10 Marin.
14.03 IST: The Indian shuttler is looking much more at ease now. Not getting distracted by the shrieking Marin. Sindhu 12-9 Marin.
14.00 IST: Sindhu is leading by 11-8. Time for refreshments.
13.57 IST: A spate of unforced errors on the Spaniard's part leaves her trailing 7-8.
13.55 IST: Sindhu is fighting fire with fire. Marin fails to return her volley. Score Sindhu 5-4 Marin.
13.50 IST: A long rally of shots ends with Sindhu breaking even at 3-3.
13.49 IST: First point to Marin. She leads 1-0.
13.45 IST: All set for the match. World No. 8 Sindhu takes the court to face the third-ranked Marin in the final. Here we go!
12.35 IST: The match will start after the ongoing mixed-doubles final ends. Stay tuned for updates.
12.30 IST: Will Sindhu be able to exorcise the ghosts of Rio 2016? Or will the Hyderabadi succumb under pressure from the Spaniard? We will soon find out.
12.20 IST: On the other hand, India's other big hope Saina Nehwal lost in the quarterfinals on Saturday
12.10 IST: The Indian shuttler is also eyeing to become the first from her country to win a World Championship Gold.
12.00 IST: Sindhu will look to avenge her Olympics 2016 final defeat against Marin who has been her longtime rival and nemesis.
11.57 IST: The match is scheduled to start at 12.30 IST (07.00 GMT).
11.50 IST: Hello and welcome to our Live Coverage of the BWF Badminton World Championships final between PV Sindhu and Carolina Marin. Stay tuned as we bring you all the latest updates.
Brief Preview:
 
Olympic silver medallist PV Sindhu continued her incredible run of form in the World Championships, earning a second successive final spot after seeing off Japan's Akane Yamaguchi at the women's singles semifinals.
 
World number three Sindhu, who had finished runners-up at the Glasgow edition last year after losing to another Japanese Nozomi Okuhara in an epic summit showdown, notched up a superb 21-16 24-22 win over world number two Yamaguchi in a 55-minute hard-fought match.
 
Sindhu entered the match with a 6-4 head-to-head record against Yamaguchi, who had defeated the Indian in big-ticket events such as All England Championship this year and Dubai Superseries Final last year. The duo faced off twice this year with each registering a win. (Read Full Preview Here)
(With IANS inputs)