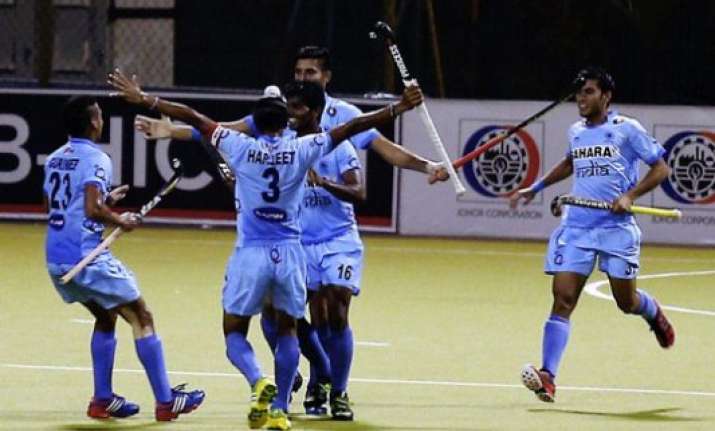 Johor Bahru (Malaysia:The Indian junior hockey team continued their winning spree by thrashing Australia 6-2 in their fifth and final league match of the fourth Sultan of Johor Cup at the Taman Daya Hockey Stadium here Saturday.
With four wins from five matches, defending champions India booked their place in the summit clash Sunday where they will take on Great Britain, who had defeated India 2-0 Monday.
India started the match with regular attacks and surprised their opponents with an aggressive game, tearing apart the Australian defensive in the first few minutes.
With repeated attacks, India earned their first penalty corner (sixth minute) which they converted through hero of their last match -- Harmanpreet Singh, who scored a match-winning hat-trick against Malaysia Thursday.
India scored their second just after three minutes through forward Parvinder Singh, who superbly deflected a pass towards the box, giving his team a 2-0 lead.
The third goal came (19th) when India out-foxed the Australian defenders and seeing a chance, midfielder Simranjeet Singh sent the ball into the net by diving down. By the 23rd minute, India were 4-0 ahead after forward Pawan Kumar sneaked into the opponents' defence and directed a brilliant pass into the net.
However, Australia earned a penalty corner in the 25th minute which was converted by Brandan Horner. Two minutes later, the defending champions earned another penalty corner which was improperly stopped by Australian defenders.
The referee awarded a penalty stroke to India and Harmanpreet left no room for Australian goalkeeper Ashleigh Thomas and scored the team's fifth goal to take a 5-1 lead at half-time.
In the second half, both India and Australia came on the field with better strategies but it was India who earned a penalty corner successfully in the 44th minute. Defender Harmanpreet scored his second hat-trick of the tournament by converting the opportunity into India's sixth goal.
In the 64th minute, Australia also earned a penalty corner and Horner converted it into his second goal.
By the final whistle, India registered a thumping 6-2 victory over Australia with Harmanpreet being declared the man of the match.
"This was our best match of the tournament till now as we played brilliantly. The boys showcased amazing team work and maintained domination against a tough team like Australia. They successfully controlled their aggression and emotions throughout the game and that yielded an awesome result for us," India coach Harendra Singh said.
"Each player played their part beautifully and because of this single-unit mindset, they managed to score five goals in the first half. With this marvellous victory, we are very much confident against Great Britain now and are looking forward to defend our title."