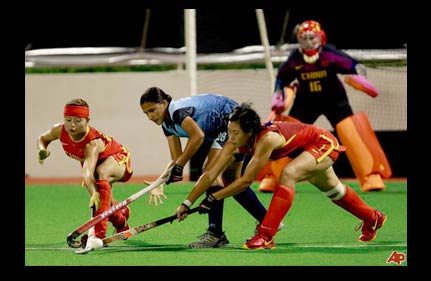 Rosario (Argentina) :  The Indian women's hockey team notched up its best World Cup finish in 32 years by signing off ninth after a thrilling 4-3 win over South Africa in the classification match here.
Teen sensation Rani Rampal scored twice while Saba Anjum and Jasjeet Kaur Handa struck once each to give India their best finish at a World Cup event since the seventh spot in 1978.
 The match started in furious fashion, with South Africa going on the offensive from the very first whistle.
 India managed to hold out for no longer than three minutes, when Lesley Ann George gave South Africa a deserved lead by slamming home a loose ball with an accurate slap-shot.
 India regrouped after the goal and began to look threatening on the counter attack.
 In the ninth minute of the match, 15-year-old Rampal brilliantly deflected a penalty corner strike over stricken South Africa keeper Hanli Hattnigh to tie the scores.
Rampal was at it again less than 60 seconds later, this time scoring a stunning reverse stick strike from the left of the circle which flew into the bottom right corner of the South African goal. Rampal finished on seven goals in the tournament.
Despite the Indian fightback, South Africa were far from out of the contest and through Pietee Coetzee, Sulette Damons and Vida Ryan looked dangerous going forward.
South Africa brought themselves level once again when Ryan smartly deflected a cross from the right into the Indian goal, completing the scoring for the half.
The second period began in much the same manner as the first and both the teams continued to play with speed and intensity.
India sneaked ahead once again when Anjum got a crucial touch on a penalty corner strike from the top, sending her deflection past the helpless Hattnigh and into the net.
The killer blow arrived in the 56th minute when Jasjeet created space for herself before firing a low drive into the bottom right corner to make the scoreline 4-2.
Coetzee netted a penalty corner to reduce the deficit with 12 minutes of the match remaining, setting up a tense and exciting final spell.
South Africa thought that they had equalised when Dirkie Chamberlain volleyed spectacularly into the Indian net from a Coetzee cross, but the goal was ruled out by a video umpire referral which adjudged the shot to have been above shoulder height.
 It proved to be a significant moment, with India defending well in the final seconds to secure the victory.
Despite the loss, the 10th place is South Africa's best World Cup rank in 12 years since finishing seventh in 1998. PTI