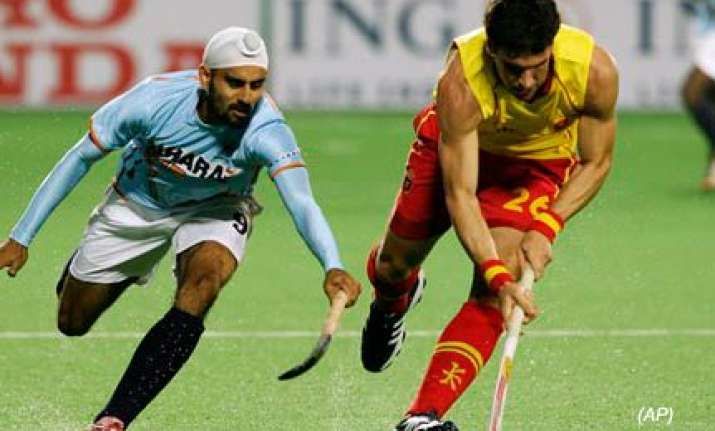 India's semifinal hopes virtually went up in smoke after Spain spanked them 5-2 in a crucial Pool B match of the hockey World Cup in New Delhi on Thursday . 
Tonight's comprehensive defeat leaves India with no other option but to win both their remaining matches against England and South Africa and then pray that outcome of other matches also go in their favour. For Spain, Paul Quemada (41st minute, 67th) struck twice while Albert Sala (19th minute), captain Pol Amat (35th) and Ramon Alegre (42nd) were the other goal-getters. 
Sandeep Singh (39th) and Gurvinder Singh Chandi (43rd) scored the consolation goals for India. In tonight's do-or-die battle, the Indians had numerous chances to score but the strikers let the side down. 
The mid-field once again sparkled but the defence wore a sorry look, committing blunders at crucial junctures, which eventually put paid to their hopes. 
The match started on a fast note with the ball travelling from one end to the other right from the onset. Spain, however, was the more dominant force as they earned four scoring chances in the first 20 minutes. 
The Spaniards got their first scoring chance in the second minute but skipper Pol Amat's reverse stick shot from inside the circle went wide. Seven minutes later Xavi Lleonart was guilty of missing the target from a close range. PTI