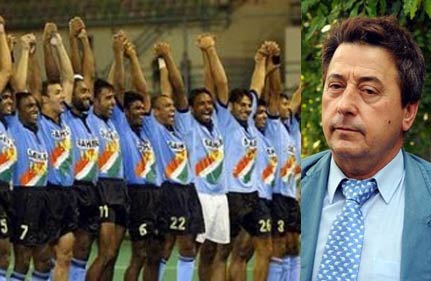 Mumbai: The Indian hockey team's Spanish coach, Jose Brasa, has accused Hockey India of treating him ''like a slave'' and claimed he was ''cheated'' by the federation and Sports Authority of India who didn't honour their word on taking care of his family's accommodation and education.  

 In an emotional interview with TOI, the 58-year-old indicted Hockey India  for not being serious about reviving hockey.  

''I have lost. Your system has won. I tried my best to change it. I pleaded, I cried, I did everything. But it won't budge,'' he said.    

Brasa said India and Pakistan were the only countries where the coach didn't pick the team.  

"I was expected to conquer the world with my hands tied. I would have quit long ago but for the players", Brasa said.

Brasa, who became the chief coach in May last year, is now completely disillusioned. "I have lost. Your system has won. I tried my best to change it. I pleaded, I cried. I did everything. But it won't budge," he told Times of India.   

Asked whether he was angry, bitter, hurt or humiliated, Brasa said: "Who do I blame, but myself. I trusted them, I thought they were really serious about the revival of Indian hockey, but I was mistaken. If not for the players, I would have left long back. There's so much talent here. It's like coaching a bunch of eager kids", the 58-year-old coach said.  

"I was promised a lot of things. They vowed to provide accommodation for my family and schooling for my kids. But they went back on their words. I called them, they didn't pick up the phone. I wrote to them, but never got a reply. They cheated me. Barring 30 days of leave in a year, I don't even have Saturdays and Sundays off. They have treated me like a slave."

Despite being the chief coach, Brasa says he had no say in team selection. "Only once  during the start of my tenure, but never after that. They want me to conquer the world, but have tied my hands. I see new faces at every camp, but also find some good players missing I protest, but get no answer."

No top hockey-playing country in the world has got selectors to pick the national team, barring India and Pakistan. "It's the coach who picks the team . World over, they have done away with selectors. The system has been almost 50 years ago. But here, the tradition continues. We train the players, we know who's good and would suit the team's requirements, but when the team is picked, the coach has no say. If we can't change, we shouldn't expect a change either", Brasa said.

Brasa's contract runs till the 2010 Asian Games in Guangzhou, China. Will he accept an extension? "Under the present terms and conditions, no. And I don't expect things to change either. But there will be enough happy memories. The players will always remain close to my heart. I will also never forget the warmth I've received from the Indian people."

Hockey India on Friday lashed out at Brasa for his criticism of the Sports Authority of India and HI, saying the Spaniard is trying to portray himself as a "martyr" after failing to deliver in his job.

HI secretary general Narinder Batra said instead of Brasa, it is SAI which has been tolerating the antics of the Spaniard.

"What I feel is that Brasa wants to paint himself as a martyr because he knows his contract won't be renewed after the Asian Games. He has failed to deliver. Nothing is exceptional about him," Batra told PTI today.

"I talked to a few players and they said whatever knowledge he had, he has given it in the initial few months and now he has nothing new to give. He has no idea about drag-flicks so we had to bring in Jugraj Singh with the team,' he said.

"All his issues are with SAI but I must admit SAI has been very fair with him. SAI tolerated him. He is the one who has been unfair to his employers. He has been misusing the media," the HI official added.

Batra alleged that Brasa was creating divisions within the team. "He is the biggest mischief creator I have ever seen. He is breaking the team. If HI is asked, we would prefer (national coach) Harendra Singh any day," he said.

The HI official, however, admitted that Brasa was right on his point that in no top hockey playing country in the world the selectors pick the team barring India and Pakistan.

But he refused to accept that the Spaniard had no say in the selection process.

 "He is right on that point but what can we do when we have such a system in place. But if he has said that he is not party to the selection process, he is lying. He is involved in all selections. He is signatory to all the selections," Batra said.
 On Friday the Sports Authority of India  banned Brasa from speaking to the media.
Brasa was gagged from speaking to the media after his controversial interview. "I am sorry I can't speak to any journalist. I have been forbidden by my employer SAI this afternoon to give any interviews to journalists till the Commonwealth Games," Brasa told PTI from Pune.
"They asked me not to speak to any journalist as it might hamper the team's preparations for the Commonwealth Games," he said.
"But definitely, I will speak to you guys after the Games," he added.