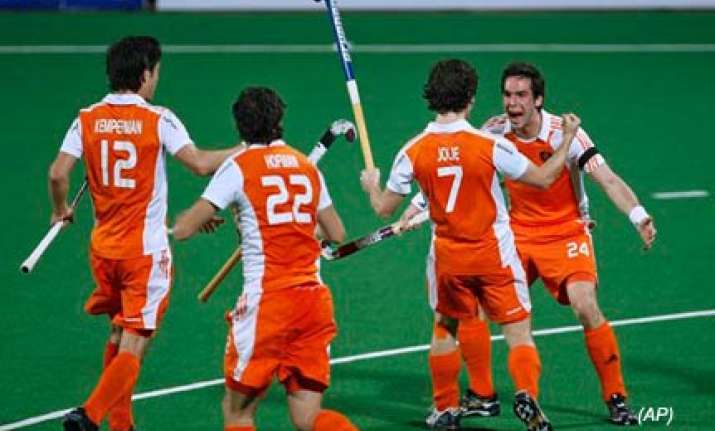 Captain Teun de Nooijer struck in dying minutes to lead the Netherlands to a thrilling 2-2 draw against defending Champions Germany in a Pool A hockey World Cup match and virtually booked a semifinal berth for his side in New Delhi on Sunday .
In the best match of the tournament so far the two strong sides entertained the sparse crowd at the Major Dhyan Chand Stadium with their fast-paced and quick passing game. 
The Dutch took the lead in the 23rd minute through Wouter Jolie before the Germans made a remarkable comeback to put their nose ahead by scoring in the 44th and 63rd minutes through Oliver Korn and Jean Marco Montag respectively. 
Just as it looked like the all-win record of the Dutch in this World Cup will be broken, Nooijer, playing in his fifth World Cup, found the German net four minutes from the final hooter. 
In the much anticipated clash of the titans, three-time champions the Netherlands got four penalty corners from which they scored once while Germany, gunning for a hat-trick of titles, had two. 
With this draw the Dutch topped Pool A with 10 points -- from three wins and a draw -- to virtually take a spot in the semifinals. They play South Korea in their last pool match on March 9. Germany, who won the title in 2002 and 2006, are on eight points from two wins and two draws, now need to beat New Zealand to qualify for the last four stage. 
If the Dutch side beat Korea, then even a draw against New Zealand will ensure Germany to the semifinals. There was little to differentiate between the two sides which played similar style of hockey -- quick passes, hard running up and down and looking for penalty corners. 
No clear chances came from both sides though the Netherlands got three penalty corners in the first half while Germany got two. Star drag-flicker and tournament joint top scorer on six goals Taeka Taekema took the first two the Netherlands' penalty corners but failed to give his side the lead. 
They opened their account from the third penalty corner, taken by Wouter Jolie in the 23rd minute. Wouter's direct hit found the back of the German net after hitting the hands of goalkeeper Tim Jessulat.  The Germans looked more dangerous in the second half and veteran Dutch goalkeeper Guus Vogel was tested on quite a few occasions ,.
In the 43rd minute, Matthias Witthaus' fine effort from near the the Netherlands right post just went wide after hitting the sticks of the Dutch goalkeeper Guus Vogels. 
Next minute, Germany equalised with a gem of a goal with Oliver Korn just making a slight change in direction of a cross from the right by Christoph Menke by his stick inside a congested Dutch striking circle. PTI