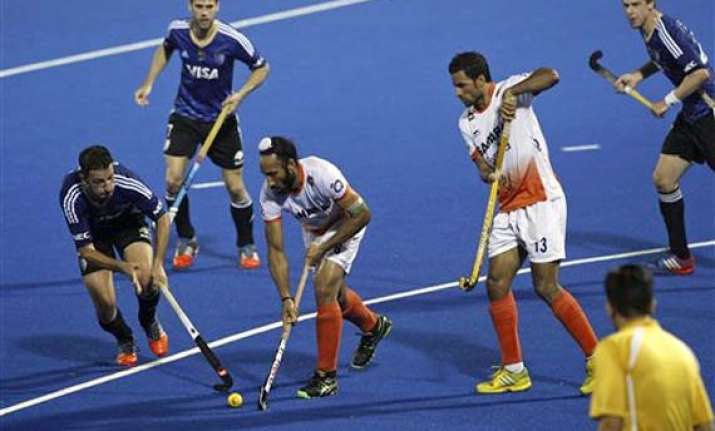 Bhubaneswar: India lost their second successive match in the Champions Trophy hockey with a 2-4 loss to Argentina in a Pool B fixture at the Kalinga Stadium here Sunday.
After a last-minute heartbreaking defeat to Olympic champions Germany in the opening match Saturday, India looked a bit short on confidence for the second.
India opened the first quarter on the front foot showing some strength and dynamism. However, the hosts failed to convert their chances.
In the beginning of the second quarter, Argentina earned their first penalty corner but could not capitalise.
The first goal for India came in the last minute of the second quarter from the stick of Danish Mujtaba, who smashed the ball past a hapless Argentine goalkeeper.
But the lead did not last long as Argentina's Lucas Vila scored a few seconds later to level the scores 1-1.
The game opened up after the equaliser as both teams looked at creating chances.
But it was the hosts who took the lead again from a perfectly placed Gurjinder Singh penalty corner in the 37th minute.
But India's joy was once again short lived as Juan Lopez scored for Argentina in the same minute.
In the third quarter, India earned another penalty corner but failed to convert it. When the whistle blew for end of third quarter, the score was 2-2.
Soon after the commencement of the fourth quarter, Argentina dominated play.
Agustin Mazzilli scored in the 49th minute, putting the pressure on India to look for the equaliser this time around.
In the dying minutes, India tried desperately to put the ball in the net but failed to score.
Joaquin Menini put the result beyond any doubt scoring his team's fourth goal in the 59th minute.
Indian coach Roelant Oltmans rued his team's performance in the final quarter.
"We played very well in the first 45 minutes. Everything was good. But in the last quarter, the Indian team was so determined to win that it took forward and forward and forget to give the counter control," he said.