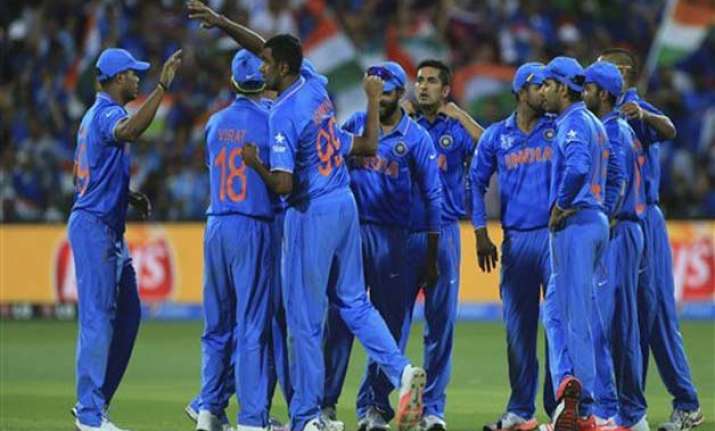 Melbourne, Australia: India is brimming with renewed self-belief after an opening win over Pakistan, and star batsman Virat Kholi says a victory over South Africa on Sunday would set an ideal platform for the rest of the World Cup.
After a lackluster test and one-day series against Australia this summer, India has been buoyed by victory over its arch rival, and is again upbeat as it heads into a tough Cricket World Cup Pool B match at the Melbourne Cricket Ground against one of the tournament favorites.
ALSO READ: We are not worried about Ashwin, says AB de Villiers
"South Africa is, as we all know, one of the top sides in the world and they have a good balance of batting and bowling, and their fielding is a rare standard in international cricket," Kohli said Saturday. "To get over that hurdle tomorrow will be immense self-belief booster for us in many ways.
"It's very important to hold momentum in a tournament like the World Cup. We started off on a good note and something we'll be looking to build on over the next few games."
South Africa captain A.B. de Villiers is putting less stock in India's performances, or anyone's, bar that of his own team.
"I'm not too worried about other teams' results, even though we are part of the whole tournament, and it does influence us," he said. "We know India is still the world champions. We know they are an incredible cricket team, so the respect factor is definitely still there."
South Africa also opened its World Cup with a win, albeit a slightly less convincing 62-run victory over neighbor Zimbabwe.
The Proteas were in trouble at 83-4 before David Miller and J.P. Duminy smashed game-saving centuries in a 256-run, fifth-wicket stand.
"Sometimes the top three is going to score a hundred, sometimes 200, sometimes 300. There will be games where we'll be 10-3, maybe even 20-4," de Villiers said. "That's a team. You operate together as a unit. Sometimes the bowlers will win you games, sometimes the batters will."
A crowd of more than 85,000 — mostly India fans — is expected at the MCG.
"I'm pretty happy that it's going to be packed. The last few games I played here it wasn't full, and it almost feels wrong in a way," de Villiers said. "It should be good to get the blood flowing tomorrow playing in front of the big crowd in a big stadium with great tradition and history."
South Africa has won 43 of its 70 one-dayers against India, and all three at the World Cup. De Villiers' side also won both games of the most recent one-day series between the teams in December 2013, with the third game rained out.
Kohli, who assumed the test captaincy from Mahendra Singh Dhoni during the series against Australia, has had a prolific southern summer with the bat, with his century against Pakistan being the latest in a string of tons during the tour.
Back at his preferred spot of No. 3 in the batting order after an experiment at No. 4 during last month's tri-series against Australia and England, Kohli recognized the growing level of expectation surrounding his performances and role in the team.
"If you do well regularly, people want you to play well in every game," he said. "I can't virtually score a century in every game that I play. As long as I know what I'm doing with my batting and the kind of mindset I'm in, I'm not really worried about anything else."
South Africa will not rely entirely on its famed pace battery on Sunday, with de Villers identifying leg-spinner Imran Tahir as a weapon against a strong Indian batting lineup.
"I see him as a match winner against any team in the world," he said. "It's a matter of bowling him at the right times, and that's my job, to make sure he bowls at the right times in order to give him the best opportunity to win us games, and that's what he's best at doing."