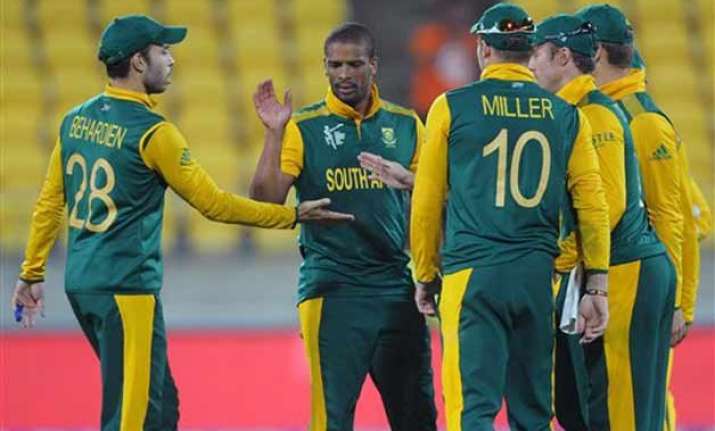 Wellington, New Zealand: South Africa faces some selection dilemmas as it enters the knockout stages of the World Cup, with the balance of the team in the spotlight due to opener Quinton de Kock's lean form with the bat.
South Africa's 146-run victory Thursday over the United Arab Emirates means it finishes the group stage with eight points and likely in second place behind India in Pool B. Now for the hard part. South Africa, regularly a top contender at the World Cup, has never won a knockout match at the marquee tournament in the 50-over format.
De Kock is averaging less than nine in six innings during the group stage, with his top score of 26 coming against bottom-place UAE. The average opening stand for South Africa is just 11.5 runs.
Captain AB de Villiers said while he was pleased that de Kock fought it out for some runs in the last pool match, selectors may be considering the 22-year-old wicketkeeper-batsman's place in the team.
"There's no doubt in my mind that he's a match winner and, I said it before, he's going to play a big part in us winning this World Cup," de Villiers said. "I would hate to see him go, but it's something that we will discuss moving forward. For now, he's still my first pick."
Should de Kock be left out of the starting lineup, it would likely mean de Villiers would need to replace him as wicketkeeper, something the captain said he doesn't really want to do.
"Personally I don't want to keep," he said. "It really puts a lot of pressure on me as a captain. I've got more time without the gloves in hand. I feel like I can get to my bowlers, communication is much better, so it will be a last resort for us to move in that direction."
De Villiers joked he'd also be "very unhappy" to give up his role as a part-time bowler. He's been picking up some wickets with his medium pace, taking 2-15 in three overs against UAE. The South Africans have been relying on four front-line bowlers, and sharing the load for the other 10 overs between part-timers like de Villiers, Farhaan Behardien and JP Duminy.
Most of the other batsmen are performing well, with six averaging over 50 in the World Cup. Top of the heap is de Villiers, who is averaging 83. The selectors may be forced to pick between two in-form batsmen, Rilee Rossouw and Behardien, if an injured Faf du Plessis returns for the knockout stages.
The bowling dilemma poses a different problem. When Vernon Philander sustained a hamstring injury in the team's loss to India in Melbourne, it opened up a spot for Kyle Abbott, who has performed well, taking a total of eight wickets.
Philander was fit again to play again against the UAE and he took two wickets for 34 off his 8.3 overs.
De Villiers said it was tough leaving out Abbott.
"It was a difficult decision, (Abbott) has had two good games in a row," he said. "It was important for us to give Vernon a go again. We know what he is capable of, especially with the new ball."
De Villiers said that barring any injuries, he didn't think both bowlers would play in the same game and the selectors would need to choose between them.
"It's a great problem to have," he said. "They've got completely different sets of skills and both of them are in good form."
South Africa's leading wicket-takers in the tournament so far have been paceman Morne Morkel, with 13 wickets, and legspinner Imran Tahir, who has taken 11.