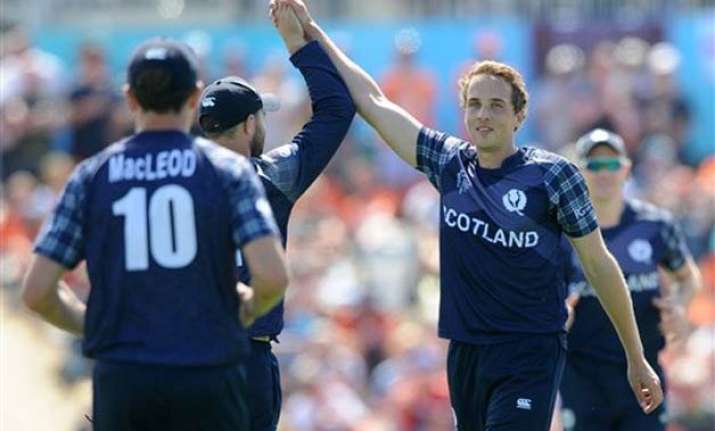 Wellington, New Zealand: Scotland has another chance to revive a Cricket World Cup campaign which has fallen below its own expectations when it plays Bangladesh in a Pool A match at Nelson's Saxton Oval on Thursday.
Bangladesh has one win to its credit — a 105-run victory over Afghanistan — shared points with Australia from a washed-out match in Brisbane and, with another win, could take a major step toward the tournament quarterfinals.
The larger share of pressure may fall on Scotland who came to the World Cup determined to prove itself competitive, not only against other associate nations but against test-playing opponents.
It lost by only three wickets to New Zealand, went down to England by 119 runs, then lost by one wicket to Afghanistan in a thriller that left it still looking for its first-ever World Cup win.
"I think in terms of the pressure on the Scotland team, we've reached halfway point in this tournament," Scotland captain Preston Mommsen said. "Unfortunately we don't have a win, which is disappointing but at the same time we've had some invaluable experiences during those three games.
"It's the first World Cup for many of the players so we've been exposed to things we've never been exposed to. We're all in a much better place."
Mommsen admitted Scotland's confidence took a blow in the loss to Afghanistan and said it now has to pick itself up to play Bangladesh in a match it has also marked as winnable.
"To lose that game was very disappointing for all the 15 players, but we've had a good couple of days' break, clean break from cricket," he said. "Some of the boys have gone up north, seen some of the beautiful beaches in Nelson and just taken their minds off cricket, came back to training yesterday nice and refreshed and the boys are ready to go for tomorrow."
Bangladesh captain Mashrafe Mortaza said Bangladesh "expects to win" on Thursday and, while its loss to Sri Lanka was a setback, it remained confident of reaching the quarterfinals. It needs to do its best to secure that on Thursday, however, as it has tough matches remaining against England and South Africa.
"We have a great chance to go through to the quarterfinal and the boys are really looking forward for that," he said. "We've got a match against Scotland and if we can play better cricket here, hopefully the confidence we can take into the England match."
Mommsen said Scotland would take heart from the fact that Ireland beat the West Indies at Saxton Oval to strike an early blow at the World Cup for associate nations.
"We love what Ireland cricket do on the world stage at World Cups. The way they're able to beat full members on a consistent basis," he said. "We do take inspiration from the way they performed here against the West Indies.
"I think they're very aggressive in the way they took on the West Indies' bowling attack, and we'll try and represent the associates tomorrow as best we can."