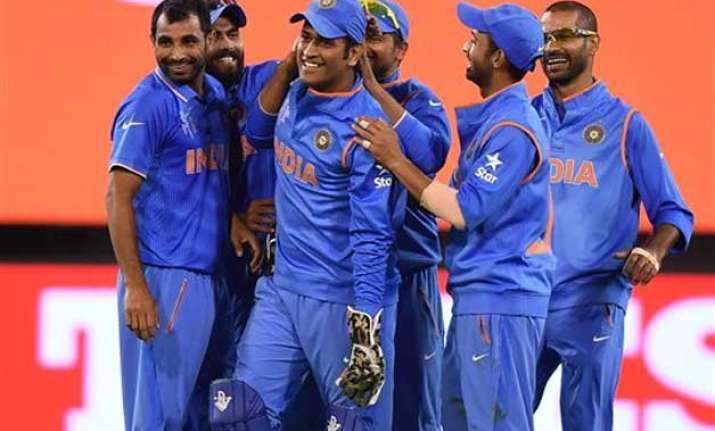 New Delhi: Defending champions India are just two steps away from retaining their World Championship crown.
 
Team India thumped Bangladesh in quarter finals to qualify for the semi-finals and will now face the tournament co-host Australia at Sydney on March 26.
 
Given the current form of the Indian team, you can't rule out their chances of being crowned World Champions for the second consecutive time.
 
World Cup has turned out to be a different kettle of fish and what transpired before is of little consequence. India's distressing tour Down Under is a forgotten chapter and it was evident from the way they began their Cup defence, outplaying Pakistan in the opening game and treating South Africa with scant respect. They have won all the 7 games played so far and created a record of bowling out every opponent.
 
Also no team could even cross the 300 run-mark against the Indian bowling.
 
Before the final, India faces Australia challenge in the semi-finals and Australians have already started the mind game. Glenn Maxwell in a press-conference said that India should not forget their losing streak against them in the summers. Josh Hazlewood too reminded India of not being able to win a single game against them.
 
Despite such facts, we bring you the five reasons why India will have an upperhand against Australia in the semis.
 


1) Australia lacks a quality spinner
 
Sydney Cricket Ground (SCG) is ever known for its spin friendly track and it will be a battle of spinners in the semifinal.
 
Former champions do not have a regular spin option. Though they have Glenn Maxwell who as a 5th bowler but he had been expensive so far with an economy of 6.26. Xavier Doherty was the only professional spinner in the squad but having played only just one game he will be lacking the momentum. Other spin options they have are Steven Smith and Michael Clarke but none of them have sparked so far.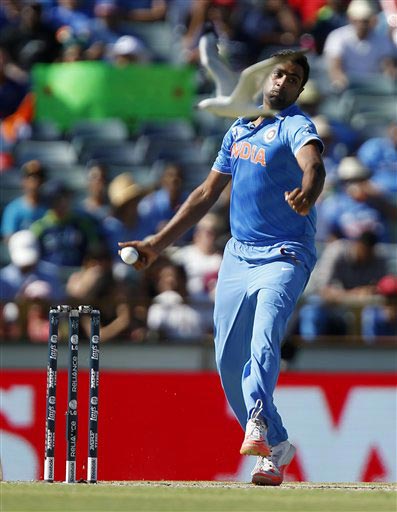 Indian spinners who were off the track before the World Cup have got their rhythm back.
 
Jadeja-Ashwin duo has scalped 21 wickets together with an economy of 5.31 and 4.29 respectively, better than most of the Australian bowlers. Suresh Raina is an extra-spin option who can provide crucial breakthroughs.
 
We all saw what happened during the quarterfinal between South Africa and Sri Lanka. Protea spinners Imran Tahir and JP Duminy combined together to scalp 7 wickets and outplayed the Asian giant.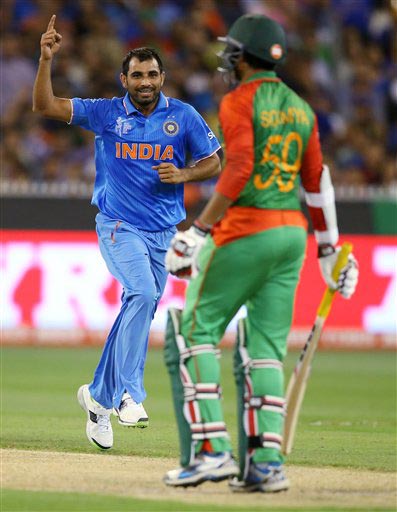 2) Improvised Indian pace attack
 
One of the major reasons of India's failure Down Under were the pacers. They conceded runs like the flow of water and were out of their line and lengths.
 
Mohammed Shami has been the pick of the bowlers with 17 wickets, Umesh Yadav the fastest with 14 wickets and surprise of the pack Mohit Sharma got 11 wickets. The only match that Bhuvneshwar Kumar played in place of Shami fetched him a wicket.
 
Taking Australian bowlers into the account Mitchell Starc have been the most impressive. He is currently the second highest leading wicket taker with 18 wickets and also the only bowler to have the average under 10.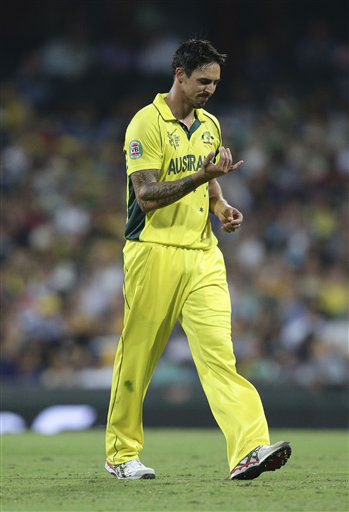 Josh Hazlewood, Pat Cummins, James Faulkner, Mitchell Marsh and Shane Watson together share 22 wickets. But their main spearhead bowler Mitchell Johnson has been the most expensive of all with only 10 wickets in 6 matches at an economy of 5.52. Not to forget Dilshan onslaught when he smashed Johnson for 6 boundaries in 6 balls.
 
India have taken all 70 rival wickets in seven matches with pacers accounting for 43 out of those and close to 25 wickets have come off short balls.
India created a record by bowling the opponents in all 7 occasions and none of them could even cross the 300-run mark. Also only Zimbabwe and Ireland have managed to score past 250.
 


 
3) Indian batsmen leading the charge
 
Indian batting line up has been famous for their batting collapse especially down their middle order. But in the ongoing World Cup 2015, it had been India's main strength.
 
This is the reason why India have not lost more than 7 wickets in any innings. Openers are giving good start and Rahane, Raina, Dhoni are supporting well in the middle.
 
In the total of 7 matches played, five centuries have been scored by the Indian batsmen -- two by Shikhar Dhawan and one each by Raina, Kohli and Rohit.
Meanwhile not to forget skipper MS Dhoni's crucial knock against West Indies and Zimbabwe which took India home.
 
In other two games against West Indies and UAE, the target was just not enough for Indian batsmen to score a century.
 
For Australia, only Maxwell and Warner have scored more than 250 runs in the tournament as compared to Raina, Kohli, Dhawan and Rohit who have scored 277, 304, 367 and 296 runs, respectively. Every leading Indian batsman is averaging 50+ in the tournament while only three Aussie batsmen have an average of above 50 with just three centuries compared to India's five.