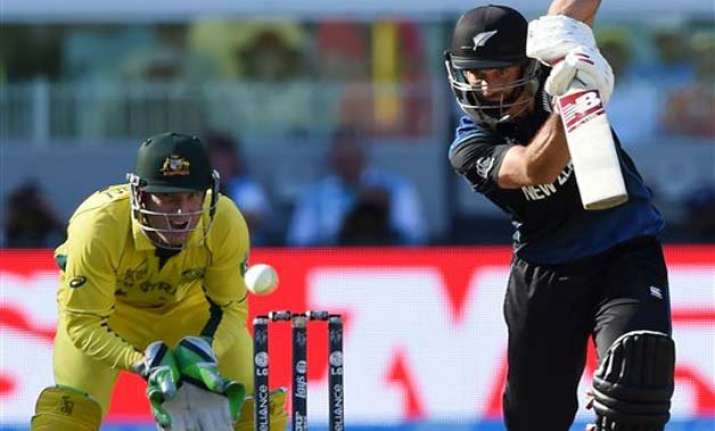 Melbourne: Scoreboard of Australia vs New Zealand, World Cup 2015 final played at Melbourne Cricket Ground here Sunday.
A collective display of disciplined bowling from the Australians helped them restrict a nervous New Zealand to a paltry 183 in the final of the ICC Cricket World Cup.
A mid-innings collapse, which saw New Zealand lose their last seven wickets for only 33 runs in 10 overs, effectively ended their hopes of putting up a respectable total despite semi-final hero Grant Elliott's gutsy innings of 83 off 82 balls.
Seamer James Faulkner's brilliant change-ups during the middle overs saw him end with impressive figures of 3/36 in 9 overs as the Black Caps collapsed from a decent 150/3 after 35 overs to 183 all-out in 45 overs in about an hour.
Faulkner was well complimented by the two Mitchells -- Starc (2/20 in 8 overs) and Johnson (3/30 in 9 overs) -- who had the opposition batsmen in trouble with pace and movement on a lively MCG track in front of 91,000 plus spectators.
New Zealand innings: 183 all out in 45 overs
| | | |
| --- | --- | --- |
|  Martin Guptill |  b Maxwell |  15 |
|  Brendon McCullum |  b Starc |  0 |
|  Kane Williamson |  c & b Johnson |  12 |
|  Ross Taylor |  c Haddin b Faulkner |  40 |
|  Grant Elliott |  c Haddin b Faulkner |  83 |
|  Corey Anderson |  b Faulkner |  0 |
|  Luke Ronchi |  c Clarke b Starc |  0 |
|  Daniel Vettori |  b Johnson |  9 |
|  Tim Southee |  run out (Maxwell) |  11 |
|  Matt Henry |  c Starc b Johnson |  0 |
|  Trent Boult |  not out |  0* |
|  Extras |  (lb 7, wd 6) |  13 |
|  Total |  all out |  183 |
|  Overs |  innings break |  45 |
|  Fall of wickets                                 |  1-1 (McCullum, 0.5 ov), 2-33 (Guptill, 11.2 ov), 3-39 (Williamson, 12.2 ov), 4-150 (Taylor, 35.1 ov), 5-150 (Anderson, 35.3 ov), 6-151 (Ronchi, 36.2 ov), 7-167 (Vettori, 40.6 ov), 8-171 (Elliott, 41.5 ov), 9-182 (Henry, 44.5 ov), 10-183 (Southee, 44.6 ov) |                       |
Bowling
| | | | | |
| --- | --- | --- | --- | --- |
|  Bowling |  Overs |  Maidens |  Runs |  Wickets |
|  Mitchell Starc |  8 |  0 |  20 |  2 |
|  Josh Hazlewood |  8 |  2 |  30 |  0 |
|  Mitchell Johnson |  9 |  0 |  30 |  3 |
|  Glenn Maxwell |  7 |  0 |  37 |  1 |
|  James Faulkner |  9 |  1 |  36 |  3 |
|  Shane Watson |  4 |  0 |  23 |  0 |
Australia innings: 186/3 in 33.1
| | | |
| --- | --- | --- |
| D Warner | c Elliott b Henry | 45 |
| A Finch        |  c & b Boult | 0 |
| S Smith | not out | 56 |
| M Clarke        |  b Henry | 74 |
| S Watson        | not out | 2 |
| Extras         |  (lb 3, w 6) | 9 |
| Total       |  (3 wickets; 33.1 overs) | 186 |
| Fall of wickets | 1-2 (Finch, 1.4 ov), 2-63 (Warner, 12.2 ov), 3-175 (Clarke, 31.1 ov) |   |
Did not bat: G Maxwell, J Faulkner, B Haddin, M Johnson, M Starc, J Hazlewood
Bowling:
| | | | | |
| --- | --- | --- | --- | --- |
| Bowling | Overs | Maiden | Runs | Wicket |
| T Southee | 8 | 0 | 65 | 0 |
| T Boult | 10 | 0 | 40 | 1 |
| D Vettori | 5 | 0 | 25 | 0 |
| M Henry | 9.1 | 0 | 46 | 2 |
| C Anderson | 1 | 0 | 7 | 0 |