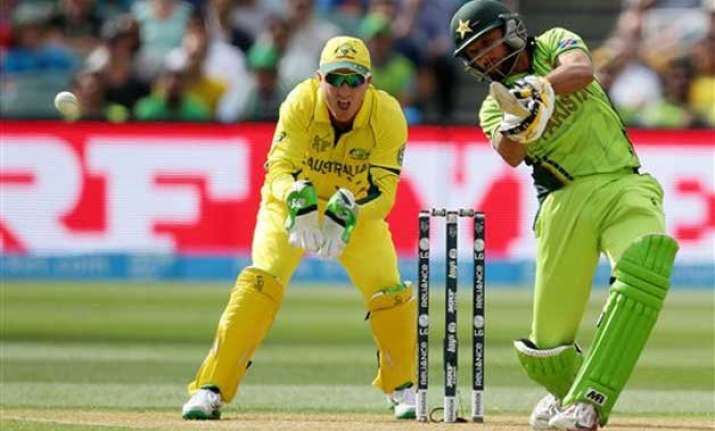 Adelaide: Scoreboard of Australia vs Pakistan scoreboard, Quarterfinal 3 of the ICC World Cup 2015 played at Adelaide Oval here Friday.
Shane Watson made the most of an early reprieve to guide Australia to a six-wicket win over Pakistan with an unbeaten 64 in the Cricket World Cup quarterfinals on Friday.Pakistan won the toss and batted but was all out for 213 in the 50th over, with recalled paceman Josh Hazlewood taking 4-35 for Australia
Earlier.electing to bat after winning the toss, Pakistan were stifled for runs by the Aussie bowlers and folded without putting up much of a fight in 49.5 overs.
Josh Hazlewood stood out with a four-wicket haul as Australia's disciplined bowlers strangled Pakistan with a thoroughly commanding performance, skittling them out for 213.
Josh Hazlewood (4/35) and Mitchell Starc (2/40) kept it tight to begin with before Mitchell Johnson (1/42) intimidated the Pakistanis with his ferocious pace.
Five down for 126 in less than 30 overs, Pakistan looked in deep trouble when Shahid Afridi raised hopes with some early power-hitting. However, the temperamental all-rounder also went back to pavillion after playing one of his now trademark cameos, which entertained while it lasted but did not help the team's cause much.
Pakistan innings: 213 all out in 49.5 overs
| | | |
| --- | --- | --- |
|  Ahmed Shehzad |  c Clarke b Hazlewood |  5 |
|  Sarfraz Ahmed |  c Watson b Starc |  10 |
|  Haris Sohail |  c Haddin b Johnson |  41 |
|  Misbah-ul-Haq |  c Finch b Maxwell |  34 |
|  Umar Akmal |  c Finch b Maxwell |  20 |
|  Sohaib Maqsood |  c Johnson b Hazlewood |  29 |
|  Shahid Afridi |  c Finch b Hazlewood |  23 |
|  Wahab Riaz |  c Haddin b Starc |  16 |
|  Ehsan Adil |  c Starc b Faulkner |  15 |
|  Sohail Khan |  c Haddin b Hazlewood |  4 |
|  Rahat Ali |  not out |  6* |
|  Extras |  (lb 5, wd 5) |  10 |
|  Total |  all out |  213 |
|  Overs |  innings break |  49.5 |
|  Fall of Wickets                                 | 1-20 (Sarfraz, 4.4 ov), 2-24 (Shehzad, 5.1 ov), 3-97 (Misbah, 23.2 ov), 4-112 (Haris Sohail, 26.4 ov), 5-124 (Umar Akmal, 29.1 ov), 6-158 (Afridi, 33.6 ov), 7-188 (Maqsood, 41.3 ov), 8-188 (Riaz, 42.2 ov), 9-195 (Sohail Khan, 43.6 ov), 10-213 (Ehsan Adil, 49.5 ov) |                          |
Bowling
| | | | | |
| --- | --- | --- | --- | --- |
|  Bowler |  Overs |  Maidens |  Runs |  Wickets |
|  Mitchell Starc |  10 |  1 |  40 |  2 |
|  Josh Hazlewood |  10 |  1 |  35 |  4 |
|  Mitchell Johnson |  10 |  0 |  42 |  1 |
|  Glenn Maxwell |  7 |  0 |  43 |  2 |
|  Shane Watson |  5 |  0 |  17 |  0 |
|  James Faulkner       |  7.5         |  0 |  31          |  1 |
Australia innings: 216 all out in 33.5 overs
D Warner
 c Rahat Ali b Wahab Riaz
24
A Finch         
lbw b Sohail Khan
2
S Smith         
lbw b Ehsan Adil
65
M Clarke         
c Sohaib Maqsood b Wahab Riaz
8
S Watson        
not out
64
G Maxwell         
not out
44

Did not bat

J Faulkner, BJ Haddin, M Johnson, M Starc, J Hazlewood
 
 Extras
 (w 9)     
9 
Total                

    

(4 wickets; 33.5 overs)
216
Overs
 
33.5

Fall of wickets
1-15 (Finch, 2.3 ov), 2-49 (Warner, 8.3 ov), 3-59 (Clarke, 10.4 ov), 4-148 (Smith, 26.4 ov)
 
Bowling:
| | | | | |
| --- | --- | --- | --- | --- |
| Bowler | Overs | Maidens | Runs | Wickets |
| Sohail Khan                     | 7.5 | 0 | 57 | 1 |
| Ehsan Adil | 5 | 0 | 31 | 1 |
| Rahat Ali | 6 | 0 | 37 | 0 |
| Wahab Riaz | 9 | 0 | 54 | 2 |
| Shahid Afridi | 4 | 0 | 30 | 0 |
| Haris Sohail | 2 | 0 | 7 | 0 |