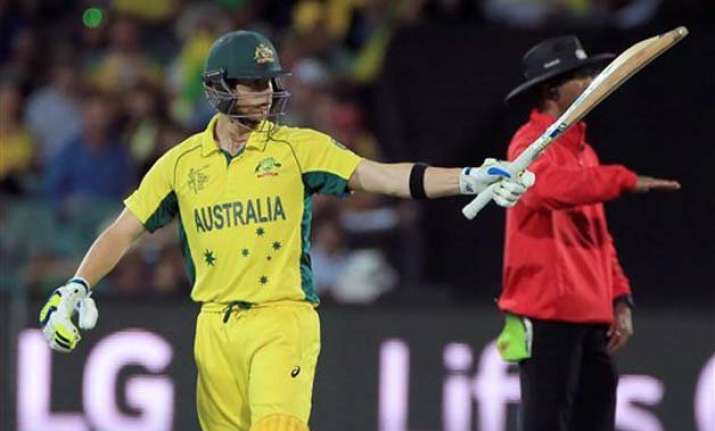 Sydney: Steve Smith piled on a lot of runs against India leading into the World Cup, and reckons the defending champions still have a few scars from their underwhelming tour against Australia.
The teams meet again in the World Cup semifinals on Thursday, with India on a seven-match winning streak that started with a 76-run win over archrival Pakistan on Feb. 15.
That's of no great concern to Smith, who says "I think we'll have a little edge over them with a few scars from the matches throughout the summer" when India failed to win a competitive match.
"They didn't beat us once," the 25-year-old right-hander said. "So I think that's going to be playing on their mind a little bit."
Four-time champion and top-ranked Australia lost to co-host New Zealand by a wicket in a low-scoring group match to finish second in Pool A, but otherwise has been dominant in a southern summer that included a test series win over India and limited-overs tri-series title against India and England. India didn't win a game in the tri-series.
Smith was Australia's premier batsman in the test series and finished up as captain when Michael Clarke was injured. He scored 162 not out and 52 not out in the first test, and adding 133, 192 and 117 in Australia's first innings in Brisbane, Melbourne and Sydney to finish the series with 769 runs. He scored 47 in his only ODI innings against India in the tri-series.
In the 50-over format, Smith has started fulfilling his promise in the last six months and has posted all three of his ODI centuries since October 7. He started poorly at the World Cup, with scores of 5 and 4, but has found his touch since being elevated to bat at No. 3, scoring 95 against Afghanistan in Perth and following it up with 72 against Sri Lanka and 65 in the quarterfinal win over Pakistan.
His partnership with Shane Watson, the player he replaced at No. 3, was crucial in Australia's win over 1992 champion Pakistan, a match that featured a torrid spell of bowling from Wahab Riaz and some angry exchanges between the pace bowler and the Australian allrounder.
Watson was fined for his part in the acrimony, and other Australian players have been warned about going too far with the sledging during the World Cup. But there's little doubt the Australians will take a backward step if India wants to reprise the kind of animosity that overshadowed the recent test series.
"It's another game for us, we like to play with that aggressive nature and it's what we've done well all summer," Smith said. "I don't think we'll see anything different."
Fast bowler Mitchell Johnson joked in a television interview that if Watson or David Warner weren't able to get involved in the verbal exchanges, he may have to take up the slack.
India didn't have to play Australia, New Zealand, Sri Lanka or England in the pool phase, but still had to overcome some tough opposition in South Africa and Pakistan before topping Pool B.
It has been a dramatic return to form for M.S. Dhoni and his India squad, a turnaround Smith attributed to all the time they've spent in Australia since November rather than any tactical plan.
"They've been here for a long time, they've been able to get accustomed to the conditions (and) the bounce we've got here compared to back in India," Smith said. "I just think we need to do what we can do well to control that. If we do that I've no doubt it's going to be a competitive game for us."