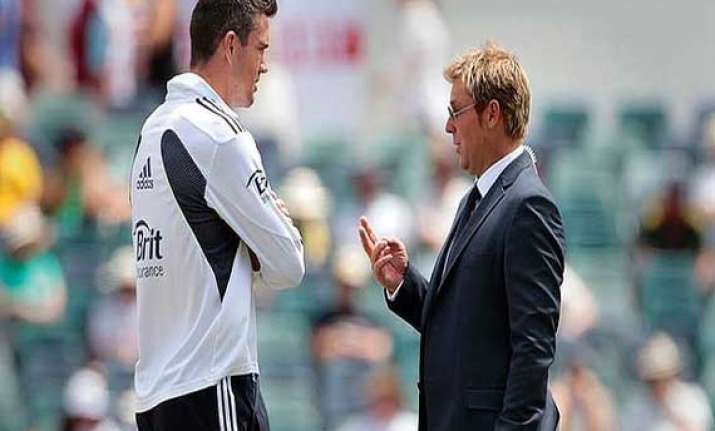 Melbourne: After disastrous tour of Australia England Cricket board is desperately trying to find ways to put the derailed national team back on track and wants a coach with magic wand.
Gary Kirsten wants big bucks to do it, and Ashley Giles wants the job despite presiding over a team which just lost seven out of eight limited overs matches. But it seemed Australian spin legend Shane Warne could have been a dark horse to take over as the next coach of the beleaguered England Test team.
Warne tweeted overnight  that he "will think about" the prospect, apparently floated by English friends.
To my English followers, I'm flattered that you would like me to consider the England job, all I can say Is - I will think about it !!!
But Warne was back on Twitter later on Monday, saying that his priorities were with the Australians.
Re Eng job,I know it's created a bit of interest hahaha I'm flattered to be considered, but my priorities, as always, are with the Aussies!!!
The former tormentor of English batsmen – he took 195 Ashes wickets at an average of 23.26, including 11 hauls of five wickets in an innings - is well-known to British audiences. He played county cricket for Hampshire, performs well regarded commentary duties in the English summer for Sky Sports
Previously disdainful of the role of coaches in cricket, 44-year-old Warne has recently accepted a part-time role helping Australia's slow bowlers prepare for the upcoming Twenty20 World Cup in Bangladesh.
Andy Flower quit as coach after England's 0-5 Test humiliation in the Ashes series recently completed in Australia. Giles then led the one day and T20 teams to one win in eight games. Kirsten, who has achieved success with India and South Africa, is reported to be seeking a million dollars per year in order to coach England.
England appeared likely to lose the services of controversial, but highly talented middle order batsman Kevin Pietersen before Flower departed. Warne is a long-term friend of the South African-born star.