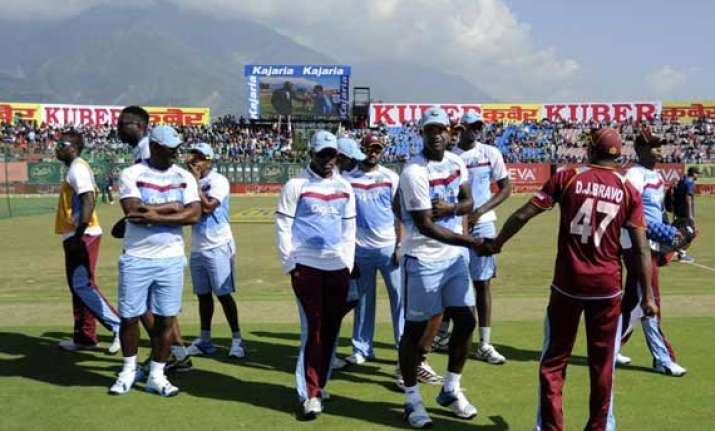 New Delhi: West Indies Cricket Board (WICB) apologises to its Indian counterpart as well as sponsors, broadcasters and fans saying that they were left with no option other than suspending its tour of India after its players "withdrew their services" amid a pay dispute with the board.
BCCI announced on Friday that the visitors had abandoned the series and were to fly home after the fourth one-day international in Dharamsala. On the same day an emergency meeting was held to discuss developments in India, where the team had another one-dayer, a Twenty20 international and three test matches left to play on the tour.
The WICB said it had offered to provide a replacement team with West Indies A team but India had declined that offer.
The BCCI later announced that Sri Lanka had stepped in to fill the void and will play a five-match one-day series in India next month.
The West Indies board has criticised skipper Dwayne Bravo under who the players have taken a decision to withdraw their services for the remainder of the tour of India."
The WICB and West Indies Players' Association signed a new agreement last month covering pay and conditions but it was rejected by the senior players, including one-day captain Dwayne Bravo who said they were kept in the dark.
The players subsequently issued a strike threat but eventually took to the field and were playing the match when the BCCI announced an abrupt end to the tour.
The WICB is to hold an emergency meeting on Tuesday to "conduct a thorough assessment of all the ramifications of the premature end to the tour" and decide what action if any should be taken.
Shocked at the sudden pullout of the West Indies team from the India tour, the Board of Control for Cricket in India (BCCI) swung into action on Friday by calling will also hold an emergency working committee meeting on October 21 in Hyderabad to discuss the issue.
The board will be going to ICC and was planning to sue the WICB and claim for damages.
Though Sri Lankan Cricket has agreed to play a five-match ODI series and fill in the void left by the West Indies but the BCCI is really miffed with the attitude of the Caribbean players that some hard actions can't be ruled out as far as their playing in IPL is concerned. A question mark is certainly there on Caribbean players' participation in IPL-8.
Caribbean players continued their protest during the three ODIs by wearing a black armband.