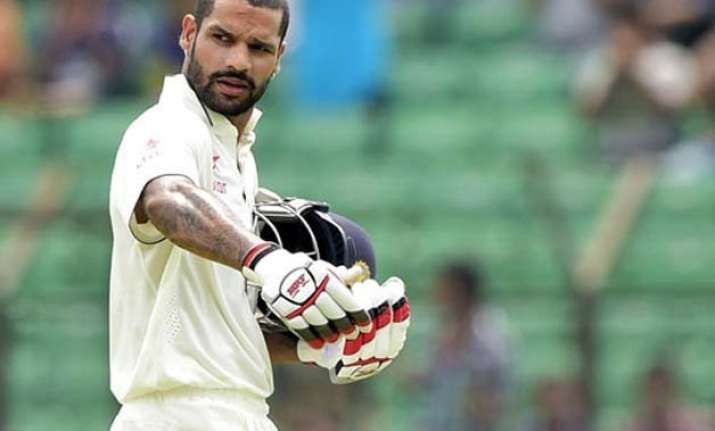 Mirpur: India captain Mahendra Singh Dhoni today said that he is happy to find Shikhar Dhawan play 20 deliveries and was not looking at the amount of runs that the opener scores despite his twin failure in ongoing Asia Cup Twenty20 cricket tournament.     
Shikhar had scores of 2 and 1 before this match as he struggled in conditions that offer extra bounce and movement.
Today the left-hander made an unbeaten 16 off 20 balls.     
"It was important for him (Dhawan) to spend time in the middle. As the tournament progresses, the wickets will move towards slower side. I did not want him to look for too many runs too soon.
I wanted him to play atleast 25-30 deliveries.
If the opportunity provides (considering small chase), then why not," Dhoni said backing the Delhi southpaw.    
The skipper also had words of praise for the reserve bowlers especially Bhuvneshwar Kumar, who had miserly figures of 4-2-8-2 with 20 dot balls.     
"I think the bowlers did well. Bhuvneshwar was good as the condition also was in favour of seamers. Bhuvi exploited the conditions as he swung the ball and his pace was also up.
(Pawan) Negi was slightly under pressure in the first over as it's not easy to play for India. Straightaway he was under the pump. In the second and third over, he was more of himself which is what I wanted. If he is given a chance in the World T20, he should be fighting the opposition and not himself,' Dhoni said.     
"He (Bhuvneshwar) is a hard working guy. He always works hard in nets and gym, and that's something important for fast bowlers. The break has helped him increase pace and bowl quick.
He used the break in good manner, in case (Mohammad) Shami doesn't get fit, he is somebody who can straightaway come in."    
Dhoni also has lauded veteran off-spinner Harbhajan Singh's performance.     
"Harbhajan was also good as he used the variation in pace very well," the skipper said.