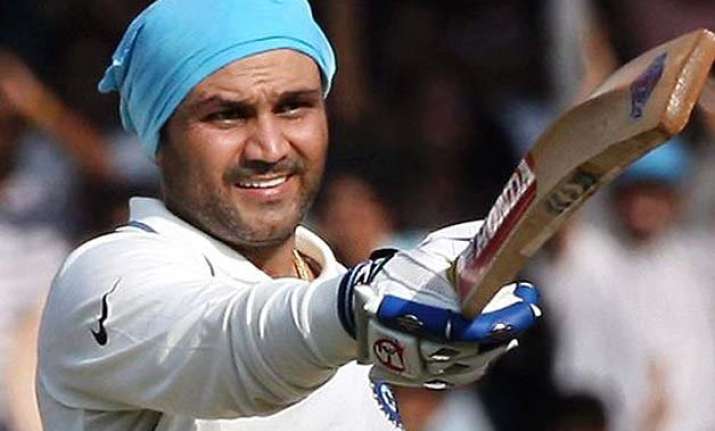 New Delhi: Team India's former opening batsman Virender Sehwag today retired from all forms of international cricket on his 37th birthday. With Sehwag's retirement, an era of Indian cricket has also came to an end.
However, some cricket fans and critics feel that the 'Nawab of Najafgarh' deserved a much better send off because of his contribution to Indian cricket.
A news channel has reported from BCCI sources that infact Virender Sehwag had requested to the cricket board for permission to play for one last time in India whites. However, his request for a farewell Test was reportedly turned down by the Indian Cricket Board. Team India is currently playing against South Africa in ODIs and is slated to play a test series against them from next month.  
Making his international debut in an ODI against Pakistan, Sehwag went on to play 104 Tests and 251 one-day matches for India, scoring 8586 runs at an average of 47.35 in the longest version and 8273 runs in the 50-over format.
But it was his strike-rate of 82.23 in Tests and 104.33 in ODIs is what set him apart from his contemporaries.
Sehwag has registered 23 hundreds and 32 fifties in Test matches, while his 15 tons and 38 fifties were also delightful knocks in ODIs.
He might have been trapped LBW for 1 in his ODI debut against Pakistan's Shoaib Akhtar, a man against whom he won many battles in years to follow, but Sehwag scored a brilliant ton in his first Test against South Africa in Bloemfontein, while batting at No.6.
Sehwag with his remarkable career in both ODI and test test matches ended his career and did not get a chance  to bow out of international cricket in style, like four of the 'Fab Five' did over the last seven years.
Sourav Ganguly announced his retirement  after the home series against Australia in 2008, Rahul Dravid and VVS Laxman announced their retirements soon after India returned from their tour to Australia in 2012 and  Sachin Tendulkar called it a day career in front of an home crowd in Mumbai in 2013.