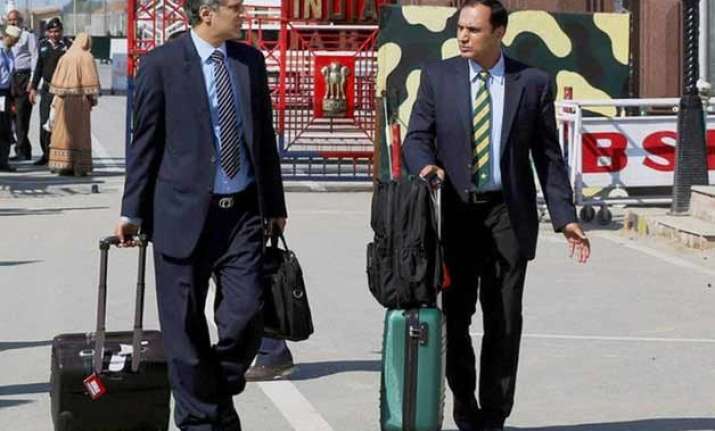 New Delhi: A two-member team from Pakistan today arrived in India to review the security arrangements at Dharamshala where India and their arch rivals are scheduled to face-off in the World T20 series on March 19.
While BCCI secretary Anurag Thakur assured adequate security measures to the visitors, Himachal Pradesh chief minister Virbhadra Singh struck a different tune.
The Himachal CM has reportedly expressed his inability to assure the security for the Pakistani team arriving for the match to the two-member team from Pakistan. The state, he said, could not guarantee the safety of visiting players from Pakistan.
Meanwhile, Anurag Thakur has reassured visiting teams of adequate security measures for all matches, including the one at Dharamshala. "We are committed to give full proof security to all teams and India is capable of doing that," he said.
"As far as security is concerned, the state government has assured in court they will take necessary security measures," Thakur told media persons on Monday.
The Pakistani team, headed by Director Federal Investigation Agency (FIA) Usman Anwar and comprising Pakistan Cricket Board official Ajam Khan, crossed over to India via the land transit route of Attari-Wagah border of Punjab after an initial delay over the lack of certain documents on part of the visiting officials. However, the entry was soon facilitated following the intervention of the Ministry of External Affairs.   
Sources in the know of developments said the officials were "busy in talks with high level police team of the state in the premises of HPCA".
The team, after conducting its review, will submit a report to Pakistani Interior Minister Chaudhary Nisar Ali Khan and PCB officials, based on which the final call on the match is expected to be taken.
Pakistan are scheduled to start their campaign on March 16 against a qualifier before clashing with India on March 19.
However, the much-anticipated match was thrown into jeopardy after the HP CM said the game should be shifted out to respect popular sentiment after the Pathankot terror attacks. Certain other organisations have even threatened to dig up the pitch if the tie proceeds as expected.
Meanwhile, Indian authorities have decided to issue only 250 visas for fans from the neighbouring country. According to sources, Indian agencies will keep a tab on the Pakistani fans once their security clearances are in place as they visit for the T20 match at Dharamsala in Himachal Pradesh.
Sources further said that the procedure of visa would be carried out only on availability of valid tickets and accommodation proof. The visas will be police reporting visa in order to make it easy for the agencies to find out if a fan goes missing.
The World T20 begins on March 8.
(With inputs from PTI)